(Psst: The FTC wants me to remind you that this website contains affiliate links. That means if you make a purchase from a link you click on, I might receive a small commission. This does not increase the price you'll pay for that item nor does it decrease the awesomeness of the item. ~ Daisy)
Wow, I can't believe one week has already passed since we started this challenge of a No-Spend Month. In some ways, it feels like an eternity. (The dollar store/coffee on-the-go part of me thinks so, anyway.) In other ways, it's gone by in a flash. Keeping myself busy really helped has helped me to retain my focus.
If you're new here or new to this challenge, welcome! One week ago today, I challenged you all to a No-Spend month. If you're only seeing it now, that's okay, you can start this at any point in time. Make sure you check out the first article in the series to find out what it's all about HERE.
What were my challenges during Week 1 of my No-Spend Month?
There were a couple of difficulties it didn't take long for me to discover after starting my N0-Spend Month. Here's what they were, and how I coped…
Challenge #1: Not stopping for fast-food.
So, this past week was a tricky one for me to start with. I had two paydays (one from my full-time job and one from my side gig), Thursday and Friday. You combine that with the extra shift I had to work this week, well, not getting take-out at least once was harder than I'd like to admit. Heck, if you struggle with it, you're not alone. Between 2013-2016, most Americans were eating fast food 1-3 times a week, and over one-third of Americans were eating it every day. Even scarier, that number increases approximately 2.2% Every. Single. Year.
What helped me…
There are a couple of things I do that help keep me from eating out too often. First, I eat before I leave the house, especially if I'm going to be out for a while. Not having those random hunger pains while out driving past a kajillion fast-food restaurants helps me to fight that impulsive urge to pull over.
When that doesn't work, I resort to my secret weapon: snacks in my purse. For me, I choose almonds. They're healthy, they give me a quick kick of healthy fat and protein, they don't get squished in the bottom of my purse like granola bars, they don't bruise like fruit, and they're fine no matter what the weather.
Almonds are a clear winner.
The last thing I do is try to keep a cheap, grocery store version of whatever I'm craving in my freezer. My biggest weakness is pizza, so I always have at least one frozen pizza in my freezer. It might not be as healthy of an option, but $3 on a frozen pizza is way better than $20 on a pizza, dipping sauces, and crazy bread from Little Caesar, or $50 at Pizza Hut. (And yes, those are almost the exact prices where I am. I suppose that gives you an idea on how often I've spent that…)
Challenge #2: A recent move, and not everything I need.
A week before I decided to start this challenge, I moved. I'd been living in a furnished bedroom for the past eight months, and to save money on storage, I'd gotten rid of about 75% of my furniture and things that I didn't need.
I was hoping this would help me to save money by my being able to switch to a smaller storage unit. It was great at the time, but it left me without a lot of things I found I appreciate. My furniture consisted of one dresser, one mattress/bed frame, one office chair, two desks, and four bookshelves (what can I say, I'm my mother's daughter). It also left me with just a handful of pots and pans, some Tupperware, a bit of flatware, and some stackable mixing bowls.
Oh, and a million coffee mugs (again, I am my mother's daughter).
So, yeah, now I have a two-bedroom apartment, barely anything to sit on, and no plates to eat my food off of. Heck, I haven't even found where I packed my tools yet, so my mattress is still on the floor at this point.
What has helped me through my No-Spend Month?
FREE. STUFF.
Yup. Free. It's honestly one of my favorite words. I've been scouring Facebook Marketplace, Craigslist, VarageSale, and, because I live in Canada, Kijiji (it's basically a nicer version of Craigslist) for free things that I need on an almost daily basis.
Not only do these sources of free goodies help with my urge to shop, but I find the challenge of scouring the internet for what I need a lot of fun. Throughout this challenge, I'm going to be attempting to get most, if not all, the things I need to make my home complete.
Here's what I've gotten so far:
This absolutely stunning antique pitcher and basin. (while I do love it, it's not my style, so it is actually a present for my sister. If you're reading this, Sis, YOU SAW NOTHING.)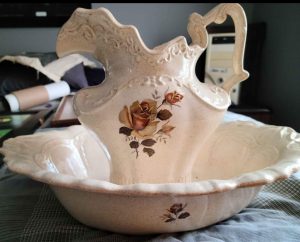 And, an absolutely gorgeous, sturdy rocking chair, made out of solid dark wood (sorry, no clue on wood types), that matches the dark trim in my new place to a tee.
I also have gotten;
Some crystal serving plates

Two TV-dinner tables


Three random, mismatched plates

Cream and sugar serving dishes

Some casserole dishes

A crystal vase
Sure, it doesn't all match, and it's not perfect by any means, but you know what? I'm in my mid-20's, I live alone, and I'm really not trying to impress anyone.
Here's what I actually purchased during Week 1 of my No-Spend Month…

While this is a no-spend month, everyone still has essentials, so there were a few purchases made throughout the week. Here's what mine were;
Feb 9th

-$42.38 on gas

Feb 9th

-$11.29 on Spotify (while this isn't essential for everyone, I don't pay for Netflix, cable, amazon prime, HBO, etc. Spotify is my one media source, and for me, it's really worth it, so it's something that I've weighed the options of and chosen to keep.)

Feb 10th

-$112.74 on my cell phone bill. Phones aren't cheap, and unfortunately, I have to go with one of the larger providers in Canada, so I still get signal living in the middle of nowhere.

Feb 11th

-$55.42 on groceries and medication (I scored some amazing $3 steaks that were on sale. One of the joys of grocery shopping at 7 a.m. – first dibs on clearance!)

Feb 13th

-$55 on gas (I keep hoping the prices will start to drop, but dang, are they expensive.)
So, my total for week one:
Essential Spending: $276.83
Non-Planned Spending: $0.00
How did you do on Week 1 of your No-Spend Month?
So, how did you do? Did you stick to it? Did you cave in and grab a coffee on your way to work one day? If you did, it's okay.
This journey that you're going on with me isn't easy. Sure, it may be for some, but for others, it's a huge challenge, myself included. I think the only reason I didn't cave with a breakfast sandwich yesterday is that I knew everyone reading this was keeping me accountable.
If you did slip up, that's okay! Try again! Beating yourself up over something will only make it harder to do better in the future. Instead, try figuring out what happened, what led to the mistake, and see how you can proactively prevent it from being as big of an issue in the future (like keeping a snack in your bag).
Let me know in the comments what the biggest challenge was for you this past week. Is it what you thought it would be?
About Chloe Morgan
Chloe Morgan grew up living with a tight budget. In her late teens and early 20's all the lessons she'd learned started to slip, like it does for many college age students on their own for the first time, and with their first credit card. As she's gotten older, she's started to deal with the repercussions and has taken on a frugal way of living, keeping her costs low, as she pays off debt and saves for her future. Chloe lives in Northern Ontario, Canada, with her cute dog, Rhea.