(Psst: The FTC wants me to remind you that this website contains affiliate links. That means if you make a purchase from a link you click on, I might receive a small commission. This does not increase the price you'll pay for that item nor does it decrease the awesomeness of the item. ~ Daisy)
Do you have a bag of tortilla chips that got stale because someone didn't close them up after grabbing a handful? Or some soft tortillas that dried out and can no longer be used for burritos or soft tacos? Then you should consider using them up the way they do in Mexico with a dish called chilaquiles. (Chill-ah-KEY-lays)
I love making meals out of stuff that lots of folks would just throw away and chilaquiles is just such a dish. I had them at a restaurant my first breakfast in Mexico and was immediately hooked. The plate I had was served with beans, potatoes, shredded meat, plus some guacamole for good measure.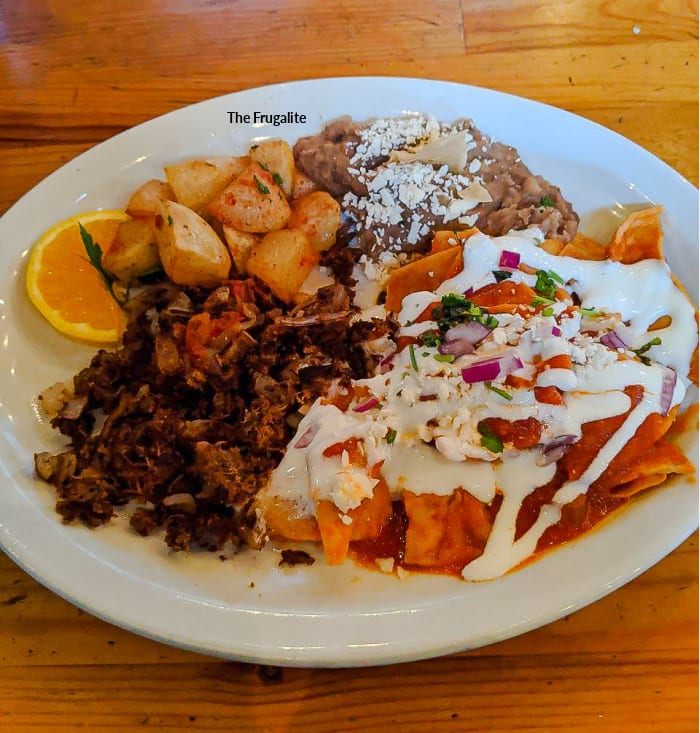 They can be served in several different ways but first, let's talk about what they are. They're traditionally served as a breakfast food and you can order either chilaquiles rojas (red) or chilaquiles verde (green). It all depends on the sauce you want. It sort of reminds me of a cross between nachos and enchiladas.
Apologies in advance to my Mexican friends for any mistakes I may have made interpreting this recipe. All errors are mine and mine alone.
How to Make Chilaquiles
Here's how to make chilaquiles.
Ingredients
Toppings of your choice:
Cheese (either traditional Mexican cheese or shredded cheddar or Monterey Jack)
Crema or sour cream
Fresh or freeze-dried cilantro
Chopped onions
Diced tomatoes
Salsa or pico de gallo
Guacamole
*NOTE: I often leave off the cheese and crema or only use a teeny bit because dairy and I are not really friends. It's still delicious.
Directions:
If you are using soft tortillas, you'll need to bake or fry them until they're a bit crisp.
Then, make (or heat up) the enchilada sauce of your choice in a large saucepan or skillet.
Stir in your tortilla chips until they're coated with sauce.
Dish them onto a plate, sprinkle them with crumbled cheese and crema (or sour cream), and any other toppings of your choice, and BOOM – that's it – you've made chilaquiles.
To make the meal more substantial, you can serve it with eggs, beans, or meat. Some restaurants serve it with a sunnyside up egg right on top. And don't tie yourself down only to breakfast. You can throw some ground beef or chorizo on top and serve it with pico de gallo for a nacho-esque dinnertime meal.
Have you ever made chilaquiles?
Do you prefer red sauce or green sauce? What do you serve them with? Share your chilaquiles tips in the comments.