(Psst: The FTC wants me to remind you that this website contains affiliate links. That means if you make a purchase from a link you click on, I might receive a small commission. This does not increase the price you'll pay for that item nor does it decrease the awesomeness of the item. ~ Daisy)
For almost four years, I have been driving a car that cost me $600 Canadian.(494.33 US dollars) I call it my "One Payment Wonder," as I paid it off when I bought it. It is a 2001 Nissan Sentra. Yes, Rosie turned 20 years old this year. Her full name is "Rosie the Golden Rocket." Since 2017, she has driven me almost 140,000 km (nearly 9o,000 miles).
Finding Rosie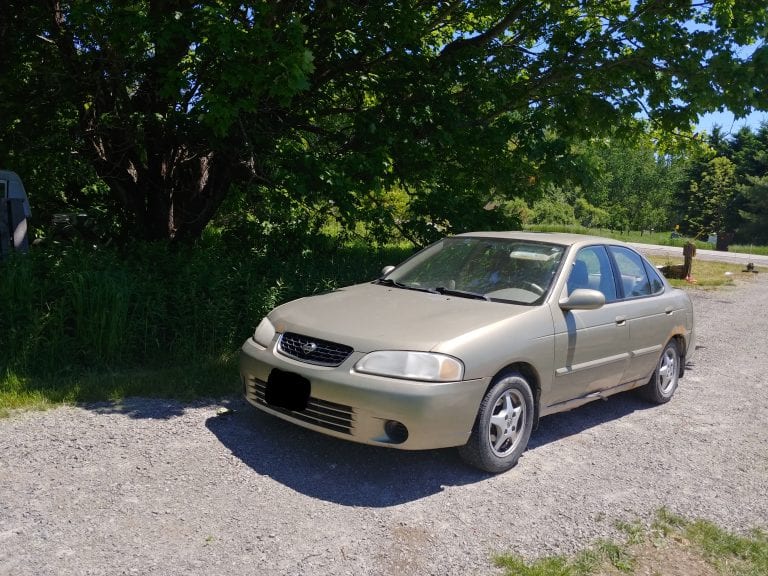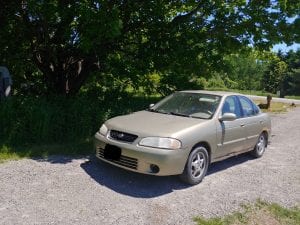 Four years ago, my Ford Focus was clearly on its way out, needing massive repairs that made no sense to spend on, and I needed a new car. I was pretty unhappy that I had spent over $3000CA (2,471.67 US dollars)on the vehicle, and it had only lasted four years. I got a call from a car-savvy friend that he had a potential car for me. It was a well-cared-for car of a specialist physician's wife. When he had passed away over a year ago, she had not had the heart to sell it. Seeing a good deal in her driveway, my friend had talked to her, bought it, and then sold it to me.
Getting Rosie on the Road
Because she had been sitting for so long, I realized I was assuming some risk with this car. However, I had been disappointed with how my investment in the Ford Focus had turned out. So, I decided to take a chance with Rosie. I felt that the money I was saving could be used for some repairs.
To get a safety certificate, Rosie needed a few things. First, she had an exhaust leak. I had a friend who was a welder who welded that leak for me in exchange for help with things he needed. Second, she needed new windshield wipers. I installed those myself. She needed a couple of tires, which I bought used from a local wrecker and had my mechanic balance and install. The cost to get Rosie on the road was less than $200. (164.78 US dollars)
One extra investment I made was in a trailer hitch setup. Unfortunately, there were none available used for a Nissan Sentra, so I had to buy a new one and have it installed. It was very important to me, as I wanted to buy a trailer and eventually haul stuff for the homestead. It was an extra investment of about $500, so I felt lucky that Rosie was already paid for!
Buying a Parts Car for Rosie
At the time I bought Rosie, emissions tests were required to relicense. When an emission indicator light went on after about a year, I was devastated. It appeared that a particular valve in the intake manifold was seized. When I looked into buying the part through the dealership, it was no longer in production. Oh No!!! My friend and I were able to unseize the valve using a spray-in engine treatment, but I preferred to have the part, just in case. So, what did I do?
I decided to buy the same car on the same platform and take it apart myself. I had never done anything remotely like this before. I had a local teenager interested in cars help me in exchange for some of the parts I didn't want or need. I had no garage; I used my aunt's garage and then had the shell towed away by an auto wrecker in the next city. The parts car cost as much as Rosie herself: $900 minus the wrecking fee of $300 was $600. However, I now had lots of extra parts, especially the hard-to-locate swirl valve. I really enjoyed the process of taking the car apart, and I learned a lot.
Not long after this, Rosie's alternator blew. No problem! I had the virtually new alternator from the parts car. That alone saved a few hundred dollars. When Rosie's trunk latch failed, I was able to pry it out of the parts car trunk sitting under my maple tree in my yard. I used the parts car's rims for my winter tires.
Here's one way an old car with backup parts could be worth its weight in gold: recent reports on The Organic Prepper website broke the news that there is a worldwide shortage in microchips. I recently heard a local radio advertisement encouraging people to "buy now" before the chips ran out. I felt pretty happy I was ahead of the curve on that news, thanks to the OP.
Over the past four years, Rosie has required very little in terms of repairs. However, she did burn out another alternator. I couldn't find another used one, so I bought a new one and had my mechanic install it. That was about $400 total. Other than that, it's just been the usual tires and oil changes.
My Other Investments in Rosie
Although Rosie is old, I take the best care of her that I can. I have met two people who have owned this make of car. One got 400,000kms (250,000 miles) out of it. Another got almost 600,000kms (375,000 miles) out of his. The problem is rust. Rosie could rust out long before her engine quits working. I am on a budget, and rust spraying is too expensive. So instead, I buy a couple of cans of rust-proofing spray for under $20 (16.48 US dollars) and crawl under Rosie two or three times a year and spray her myself after taking her through the car wash.
When her wheel well on one side and rocker panels started to rust out pretty severely last year, I invested some time in my car. I had done some bodywork on my Ford Focus, so I decided to try and rebuild Rosie's rocker panels with mesh and fiberglass and repaint myself. It took a few days of work, spread out over a couple of weeks. The results are not perfect but are much better than if I had left them alone. The materials to do this were about $100 (82.38 US dollars) or so.
Finally, because I own an older car, I invest in CAA (AAA) every year, the premium kind with the long-distance tow included, so I am never out of range of getting towed home for free. I had used this service twice when the alternator blew and ran low on gas during a power outage. I feel the peace of mind is well worth it.
I hope this story of my "One Payment Wonder" gives you some inspiration. I don't have a background in mechanics; I never took a course in high school, even. However, I have learned a ton by having this car and being willing to try some new stuff on her. She may not turn heads as I drive, but she has got me from Point A to Point B for four years. As a result, I have saved thousands of dollars compared to carrying even a modest car payment.
If you're now inspired to review your own spending, check out this article where Daisy offers her example of 14 radical budget cuts she made to reduce her expenses.
I recently had my mechanic take a closer look at Rosie, as I'm hoping to get at least another year or two out of her. He declared her "safe" with no major issues. Hurray! Wish us luck!
From Point A to Point B….to Point C?
What do you drive? Would you be willing to downgrade your vehicle to save money? Why or why not? Share your thoughts in the comments!
About Colette
Colette is a seventh-generation farmer and homesteader. She grew up in the suburbs of a large Canadian city, but spent summers in her childhood visiting her family farm. She has worked professionally as a researcher and writer for decades, all the while travelling the world. She always knew she would return to the area near her family farm in Eastern Ontario, Canada and is now happily living not far from there on her Half-Acre Homestead. Soon, she will be launching a website full of tips for Frugalites and homesteaders alike. If you subscribe to the Frugalite email list, keep an eye on your inbox to be one of the first to see it!