(Psst: The FTC wants me to remind you that this website contains affiliate links. That means if you make a purchase from a link you click on, I might receive a small commission. This does not increase the price you'll pay for that item nor does it decrease the awesomeness of the item. ~ Daisy)
With the price of groceries going no place but up and shortages looming, lots of thrifty folks are starting a garden to save money on their bills this year. But what about the money to start a garden? It can be a very expensive undertaking, especially if you've never gardened before in your particular location.
I've been researching ways to start my own garden as inexpensively as possible and thought, "HEY!!! I know some other folks who would absolutely love frugal gardening ideas!" So…here they are.
Step One: What Kind of Garden Are You Going to Grow?
Of course, the very first thing to decide is what type of garden will work best for your situation. This will depend a lot on your soil, your climate, your skillset, and what you have easy and inexpensive access to. Following are some articles and books that will help you make your decision.
Pallet Gardens: Simple, Easy, Free
Create an Instant Garden with Sheet Mulching
How to Have a Garden When You "Can't" Have a Garden
Lasagna Gardening: A New Layering System for Bountiful Gardens: No Digging, No Tilling, No Weeding, No Kidding!
DIY Super Easy Raised Garden Bed for Under $30

A Free Solution For Raised Bed Gardens
How to Build a Raised Garden Bed for $12
For those who aren't build-y: Big Bag Fabric Raised Beds (I have used these with great success for veggies with shallow roots and as a bonus, you can use them on concrete if you're gardening on a patio.)
Square Foot Gardening: The Revolutionary Way to Grow More in Less Space
15 Fruits and Veggies You Can Grow in a Bucket Garden
PVC Drip Irrigation System for Your Garden
How to Save BIG on Lumber Supplies for Your Square Foot Garden
Step Two: Plan Your Garden
Now that you have figured out how you'll grow your food, you need to figure out what to grow. A lot of that depends on your goals. Are you just hoping for salad this summer? Or are you planning to grow an entire year's worth of food for your family? These links will help you make some decisions!
Get a FREE Garden Planning Calculator
Growing Vegetables Is Back in Style: Here's How to Start Planning Your Garden
FREE Garden Planning Printables
How Much to Plant for a Year's Worth of Food
An Inspiring 5000 Square Foot Garden Plan
Last Frost Date Seed Planting Worksheet
Step Three: Start Your Seedlings
While it's easy and less hassle to buy your seedlings already started, it costs a whole lot more. One plant can be the equivalent of an entire package of seeds! Starting your own seedlings is not that difficult and you don't need an indoor growing operation that marijuana drug lords would envy.
20 Frugal Repurposed Seed Starting Containers
How to Make Newspaper Seed Starting Pots
Another Way to Make Seed Starting Pots from Newspaper
Chicken Manure Tea for Seedlings
Why Your Seeds Aren't Germinating
Step Four: Amend, Create, or Prepare Your Soil
No matter how sturdy your seedlings or how efficient your beds, your garden is only as good as your soil. These tips will help you, whether you're amending what exists, creating soil, or preparing your soil to receive seedlings.
Know Where You're Starting Out: Test Your Soil
How to Make Your Own Garden Soil and Compost
Create an Instant Garden with Sheet Mulching
Build a Compost Bin from Pallets
Composting for Beginners: $12 DIY Compost Bin, Getting Started, & 50+ Things You Can Compost
Is Your Soil Getting Enough Calories?
Bonus: Pest and Weed Control
You don't have to break the bank to keep weeds and pests at bay. Many of the things you need are things you'd normally throw in the trash. Other DIYs are chemical-free and thrifty to make.
Natural Pest Control in the Garden
5 Ways to Naturally Control Weeds
The Organic Gardener's Handbook of Pest and Disease Control

Repel Insects Naturally with This All-Purpose Garden Spray
Bonus Bonus: Miscellaneous Frugal Gardening Awesomeness
These resources didn't fit into any of the above categories but I found something useful for my frugal gardening efforts in every single one. So, I figured you guys would like them too!
10 Things That Can Be Recycled for the Garden
The Vegetable Gardener's Bible
The Top 10 Plants for Companion Gardening
Build a Simple Cucumber Trellis
Frugal and Free Landscaping and Garden Ideas
9 Gardening Supplies You Can Get for Free
How to Start a Garden on a Budget
Bonus Bonus BONUS: A Peek at My Personal Gardening Library
These are the books I have on my own bookshelf in the gardening/homesteading area. I've included links so you can find them on Amazon. All links are to the newest editions, so the books may not look the same as the ones you see on my shelf.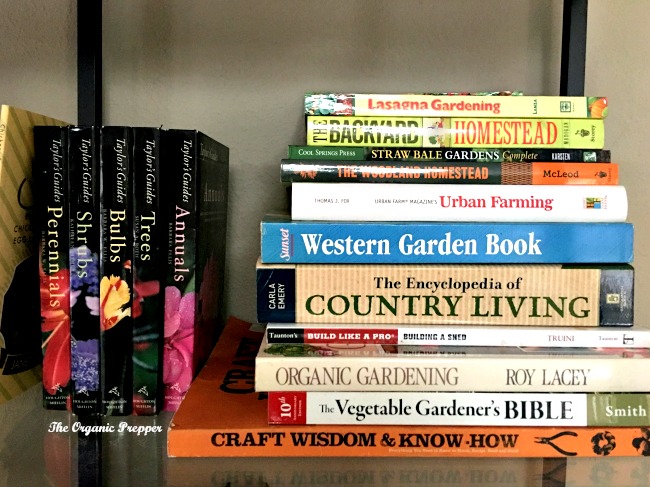 Lasagna Gardening: A New Layering System for Bountiful Gardens: No Digging, No Tilling, No Weeding, No Kidding!
The Encyclopedia of Country Living
Organic Gardening (There are only a few used copies of this one on Amazon)
The Vegetable Gardener's Bible
Not shown because I let someone borrow them or read the e-version:
All New Square Foot Gardening, Second Edition: The Revolutionary Way to Grow More In Less Space
What are you waiting for?
Clearly, your budget doesn't have to be an issue! There are so many things you can do on a dime that there's absolutely no reason for you to delay starting a garden for self-reliance.
Do you have any frugal garden tips you'd like to share? Your comments could be included in a future round-up! Post them in the section below!