(Psst: The FTC wants me to remind you that this website contains affiliate links. That means if you make a purchase from a link you click on, I might receive a small commission. This does not increase the price you'll pay for that item nor does it decrease the awesomeness of the item. ~ Daisy)
Editor's Note: This is the first in a new series of articles called "Lifestyles of the Flat Broke. The series is pertaining to living in bad or uncomfortable living situations due to financial strain or crisis. To kick-start this series, let's talk about what the Frugalite can do if they find themselves living in a motel due to a financial situation.
What would you do if you found yourself living in a motel?
This is something I recently had to do for a month.

It wasn't a fun situation, but I'd moved to a completely new area at the beginning of 2022 to take up a new job in the hospitality industry working nights. With housing costs like they are right now in Ontario (though they're pretty bad in many places), I found myself staying in a motel for $1000 a month, which is a very low cost for the area. That should have been a warning, but I was in dire need with my new job starting right away, so I took it.
Where were you living, and for how long?
I was living in a crappy, rundown motel in northern Ontario. Thankfully, I was only there for one month, but one month was more than enough.
What issues arose due to living in a motel?
I had a lot of issues. In the month I was there, the power and lights went out numerous times. I'm just thankful that the heat didn't go out for an extended period of time, as temperatures were frequently dropping to 20 degrees below freezing (often even colder).
The bathroom flooded twice, the first time resulting in water leaking onto the main room carpet, leaving it soaked for days. I was handed stained sheets and a muddy mop for me to clean it with.
The water at the hotel was well water and not suitable for anything other than bathing. Even my dog wouldn't drink it, and it didn't make good coffee either (and, being Daisy's daughter, you probably already know how much I need my coffee.)
Lastly, the person "running" (if you can even call it that) the motel set off nearly every bad gut feeling imaginable in both my dog and me, but I'll talk more about this later.
Here are some images of the inside:

Heater in the bathroom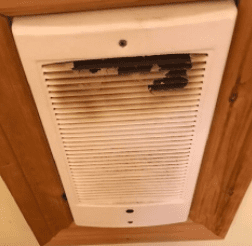 I forgot to take a photo of the heater in my main room, but it looked very similar to this one (taken from a google review of a different review at the motel), except mine didn't have the nice trim, and the cord looked like it'd catch fire too.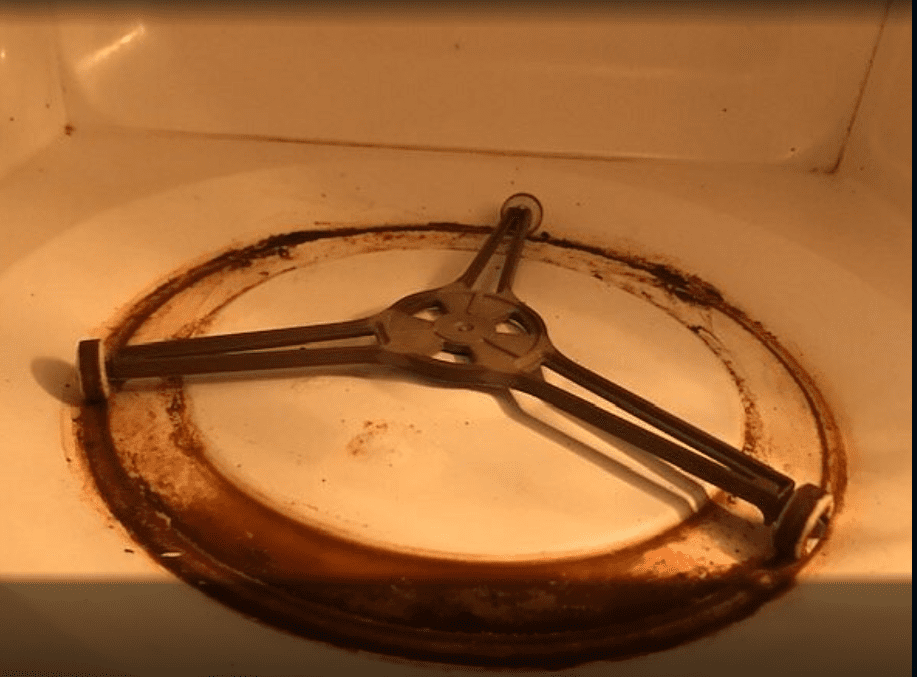 Inside of my microwave after being told the place had been "fully cleaned and sanitized."
What did you do for groceries and a clean water supply?
Well, given that the water was undrinkable, finding clean water was my first priority. I went to the nearest grocery store and bought six 1-gallon jugs of water. Every time I went into town, I also made a point to stop and get at least 3-4 more. Between my dog and me, we went through about one gallon of water a day.
For food, all I had to work with was a microwave (which I had to scrub before using) and a bar fridge. Between the little cooking capabilities and my trying to stay on a tight budget, I was forced to get creative. I wound up finding a rice cooker on Facebook marketplace for $5, and it became my new best friend. I had rice almost every night for dinner, making many "microwave casseroles," as I like to call them. I'd just take cooked rice, a bit of mayo, and some form of meat. I would either do a can of tuna, or most weeks, I bought a rotisserie chicken for $8 for the week, so I'd use some of that. It wasn't the tastiest, but it worked.
For snacks, I kept peanuts on hand, ate a lot of apples, and plenty of carrots.
Making sure I got enough protein and vitamins was very important, so I also invested in a shaker cup for my protein powder. I found a new love for cold coffee, protein powder, and just a touch of cream! It made for a great afternoon snack or breakfast. It was also quick, cheap, and easy.
Did you have any dependents or pets while living in a motel?
I don't have any kids, but I did have my dog, and I was lucky I did. I love my dog to pieces, and she is very friendly to pretty much everyone, so if she doesn't like someone, you know something is off about them. Let me tell you, she HATED the guy running the place. All he had to do was walk past my door, and her hackles would raise, and she'd start to growl. She never did that with a single other person while I was there, and as I said, we were there a month.

My dog hated that man so much she almost bit him one time as he was walking past my door. I'm glad I had that extra protection with me.
And on that subject…
How did you keep yourself safe living in a motel?
Well, I only had one flimsy lock that came on the door handle by way of protection, but it was better than nothing. I kept the door locked 100% of the time. Be I in the room or out of it, that door was always locked with the sole exception being when I took my dog into the parking lot to do her business. Even this only took up a couple minutes, and I had full sight of the door the whole time.
I think the fact that I had a 50lb dog with me all the time kept me safer than anything else. Between the flimsy door lock and the creepy man running the place, I couldn't get out of there fast enough. There were at least 5-6 days where police were present on the property for long periods of time too, which was very unsettling.
While I was there, every time I went into town, I would always ask cashiers and servers if they knew of any places available for rent. Unfortunately, that answer was always no, but it often came with a warning that many of the motels in the area had gotten a bad reputation for human trafficking. After I discovered this fun fact, I started propping one of the chairs under the door handle when I was "home" too.
I'm just thankful that I got out before anything bad happened.
What was your income like, and how did you stick to a low budget while living in a motel?
Well, I'd moved to start a job. I had a little bit of money, but I kept it aside for when I actually found an apartment. Other than that, I had to wait until I started getting paychecks.
I did some extra projects on the side that could bring in a small amount of cash right away – babysitting for a friend, and a few other things. I also had stocked up on my points for a local grocery store chain, so I was able to have about $60 worth of food covered.
It was hard to stick to a budget, but I found using the cash envelope system really helped me stick to it.
How did you get yourself out of the situation?
I kept my eyes peeled and was looking at new properties for rent at least once a day and on multiple platforms. I wound up getting very lucky and finding an apartment that was beautiful, pet-friendly, and much more affordable than I thought I'd be paying, given the current housing market.
Most of my stuff was in a storage unit two hours away, so I asked a friend to help me move, we got a trailer, and I bought her dinner. We wound up doing the move in a day, and I have never been so happy to move.
What was your biggest takeaway? If you could give any piece of advice to someone going through a similar situation, what would it be?
Just stick through it. Try to keep your end goal in mind. Stick to your budget and save what you can. Your living situation may suck, but you can't let it get to you. Just put your nose to the ground, power through, and use every resource you can get your hands on to get to a better place.
This won't be your forever, and better things are coming.
What are your thoughts?
Have you ever had to spend a long stay at a hotel/motel/inn due to life circumstances? Are there any tips you can offer to our other readers about it? Let us know in the comments below.
About Chloe Morgan
Chloe Morgan grew up living with a tight budget. In her late teens and early 20's all the lessons she'd learned started to slip, like it does for many college age students on their own for the first time, and with their first credit card. As she's gotten older, she's started to deal with the repercussions and has taken on a frugal way of living, keeping her costs low, as she pays off debt and saves for her future. Chloe lives in Northern Ontario, Canada, with her cute dog, Rhea.