(Psst: The FTC wants me to remind you that this website contains affiliate links. That means if you make a purchase from a link you click on, I might receive a small commission. This does not increase the price you'll pay for that item nor does it decrease the awesomeness of the item. ~ Daisy)
Going to the store can be like running a gauntlet of tantalization for those easily tempted by sparkly things and coffee mugs. Curbside pickup and delivery services can help you to avoid those impulse buys and, as a result, save a lot of money.
Impulse buys and marketing
It's all by design, of course. People go to universities for years to learn how to best part you with your hard-earned money via product placement and clever marketing.
Take the $5-and-under-section of Target that greets you as you walk in the door. All that super-cute stuff your kids, your mother-in-law, your next-door neighbor – and let's face it – you would love, is right there, and it's only a buck or so. Don't get me wrong – I've scored many a popular stocking stuffer or surprise gift in that little area. But it's like Eve and the apple. I get drawn in and really, really, really want a bite.
The same could be said for the checkout lines with all the candy, lighters, ice-cold drinks, and little do-hickeys you had no idea you needed. And the end caps of aisles with beautiful displays and sale signs that grab your attention and promise even more savings if you buy 3 of an item instead of one…and…and…and…the list is endless.
This is how stopping by for a gallon of milk results in a cart full of items you didn't know you "needed" until you saw them.
Curbside pickup can save you a fortune.
Curbside pickup didn't really become popular until Covid. But then it took off, and it seems like half the parking lot of your favorite corporate stores is reserved for customers awaiting their groceries and goods. Curbside pickup is free at almost all stores that offer the service.
The nice thing about shopping for your groceries online is that it's far easier to stick within your designated budget. You can add or take away items from your "cart" to your heart's content to stay within your allotted amount to spend. You can watch this in real-time and totally avoid that teeth-gritting (and often embarrassing) moment at the checkout counter in which you wait for the total to see if you've correctly estimated your total or if you have to ask the cashier to take something off your bill.
I usually make a list before opening the app as opposed to just "browsing." Then I search for those items in the search bar. Unless I specifically want a particular brand, I don't put the brand name in the search bar. I go with something general like "dishwasher detergent" or "canned tomato soup." This gives me more options from which to choose. I can shop by price, by healthier options, by what's in stock, or whatever my criteria are at that time.
It's very easy to compare unit prices online, as the photo below shows. On most sites, you can see a running total on the side while adding things to your cart. I set a maximum budget of $100 for this trip.
You can also see the total in my cart in the upper right-hand corner.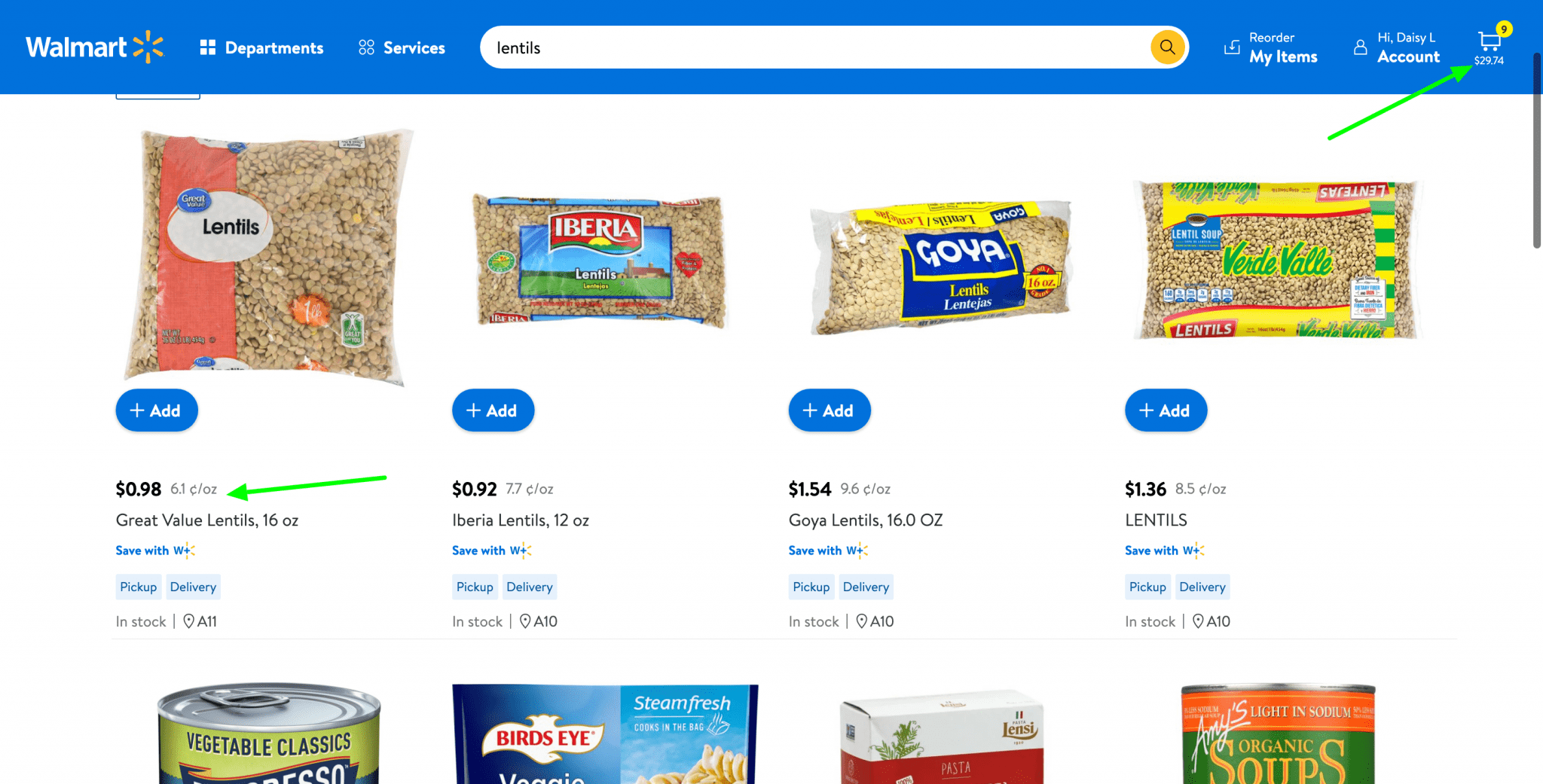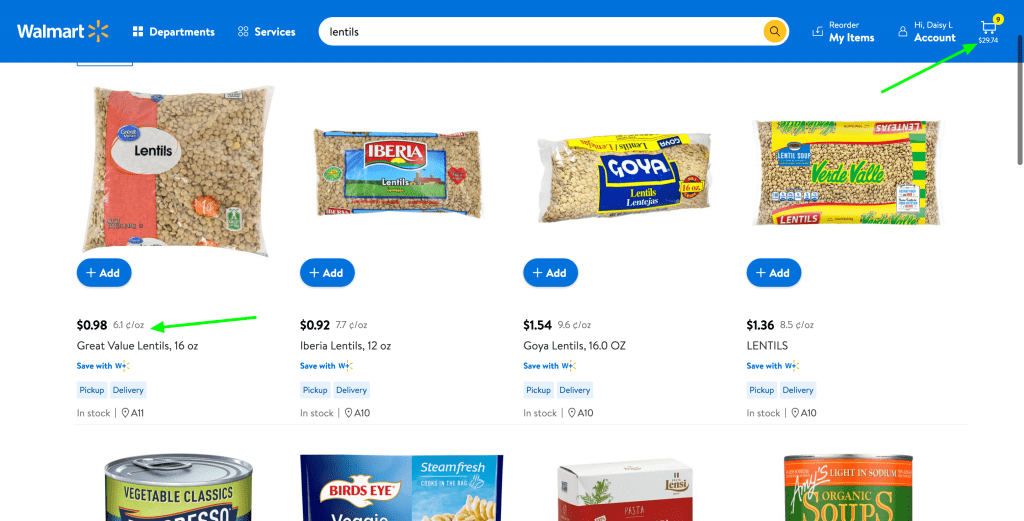 When you're shopping, be sure to select "in-store" options so that you're sure to get things you can pick up. When you finish shopping, you'll get a window that looks something like this, telling you when and where to pick it up. Taxes are added at checkout.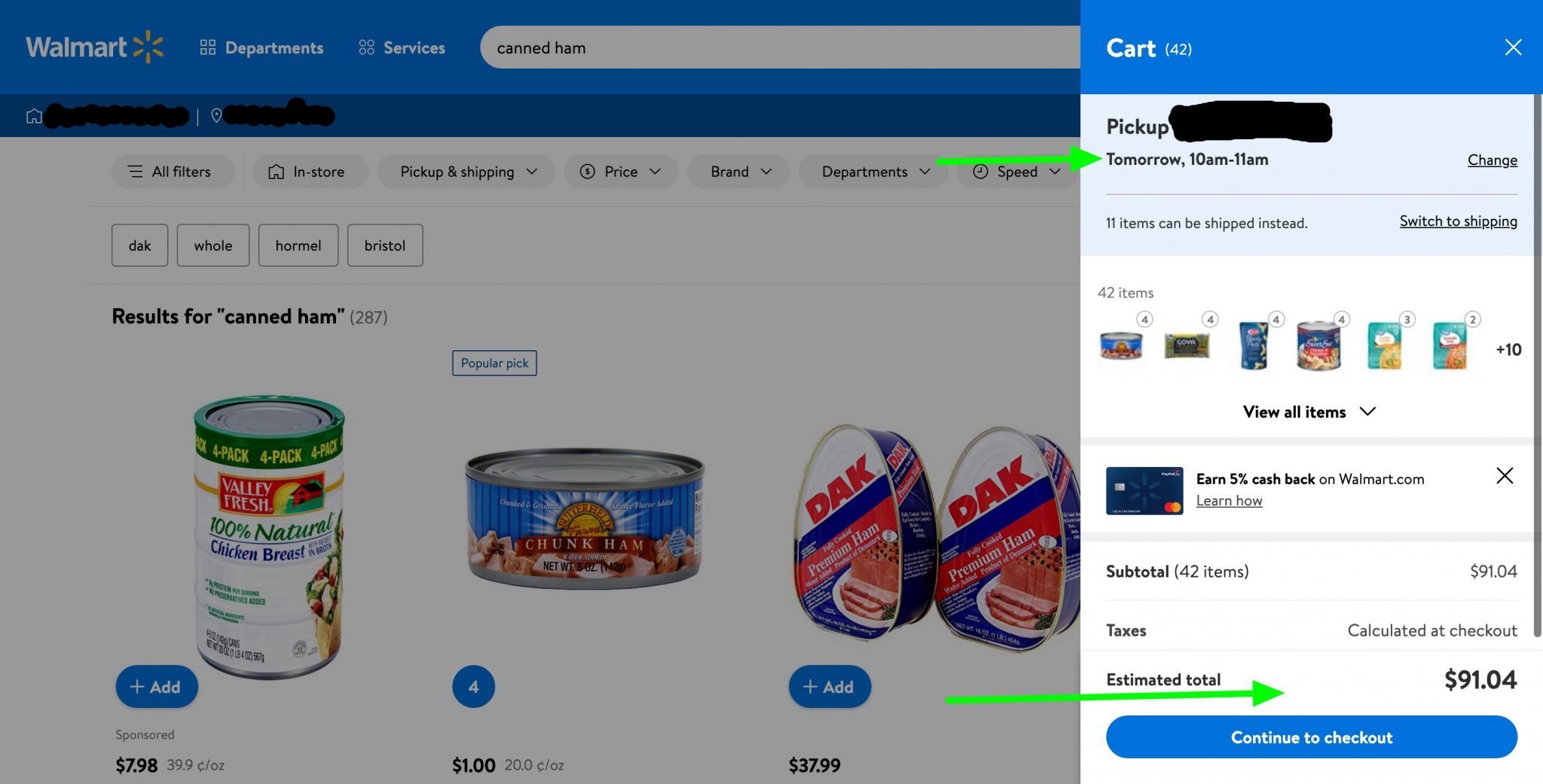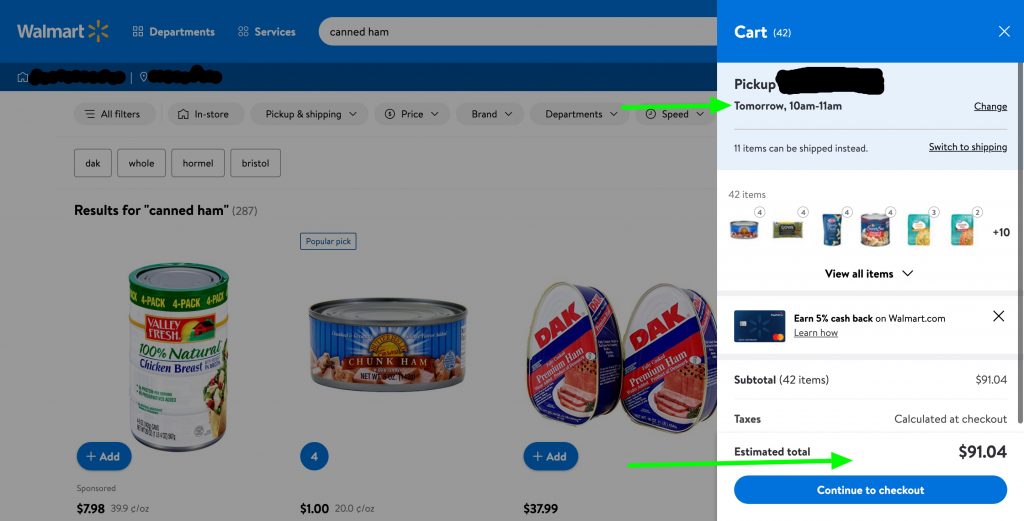 Here's how curbside pickup works.
You set up an account online with your chosen stores. For the purposes of this article, I put together an order from Walmart since nearly everybody has that store in their area.
When you're ready to shop, you choose whether you want curbside pickup or delivery. Going to get it is free except for the fuel. For delivery, the fee varies based on the size of the order and your distance from the store. We'll talk more about delivery in a moment.
Most websites will show you their sales to try and entice you, much like when you shop in person. I always check those out. If there's a great loss leader item, I'll often replace something on my original list with it or stock up.
When you finish shopping, you will pay online with a debit or credit card. First, you'll have a chance to review your order and approve any substitutions. If you want specifically what you selected, uncheck the boxes authorizing substitutions, and any money will be immediately refunded to your card.
After this, the only thing you have left to do is to be there at the designated time and place.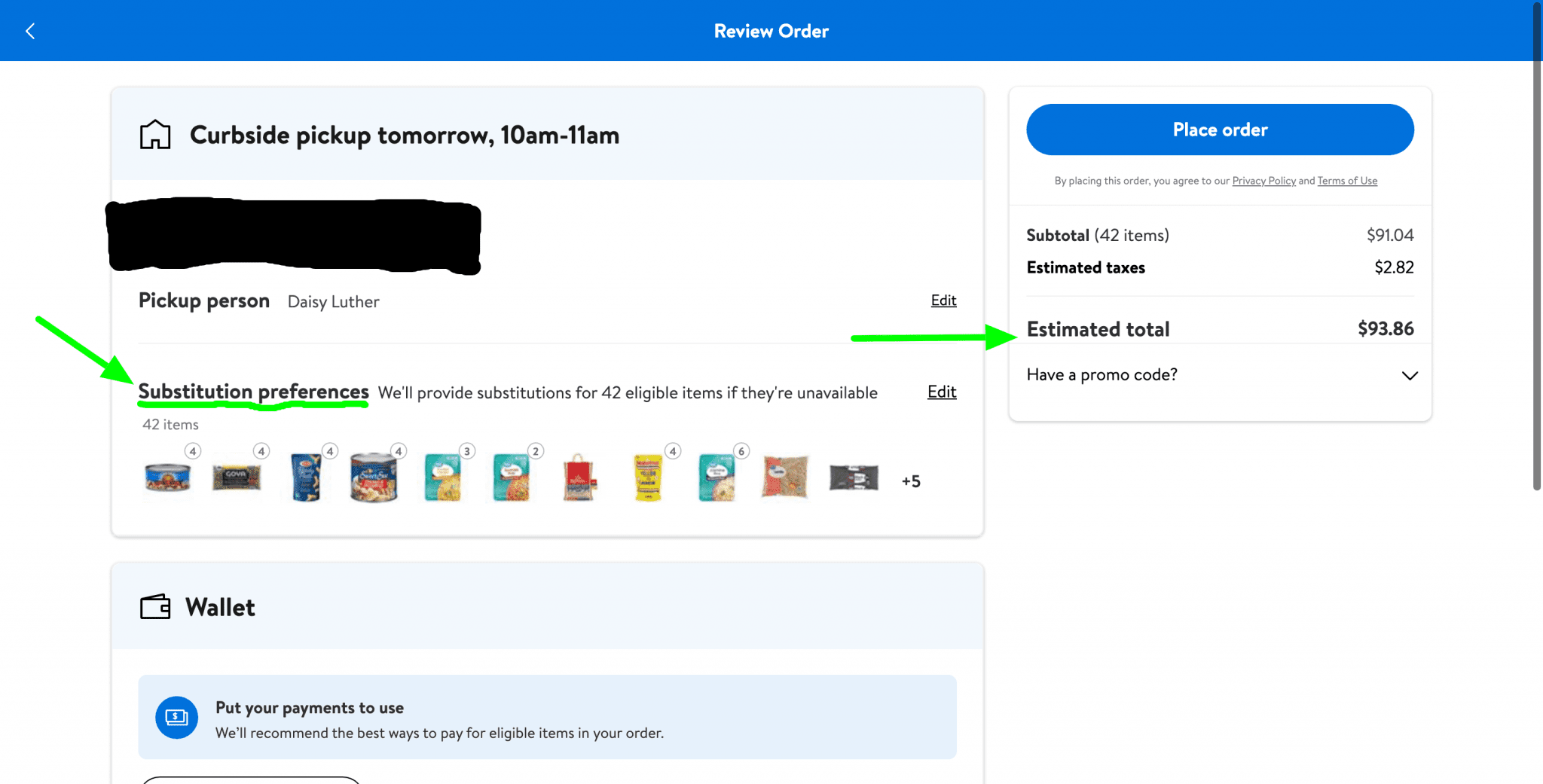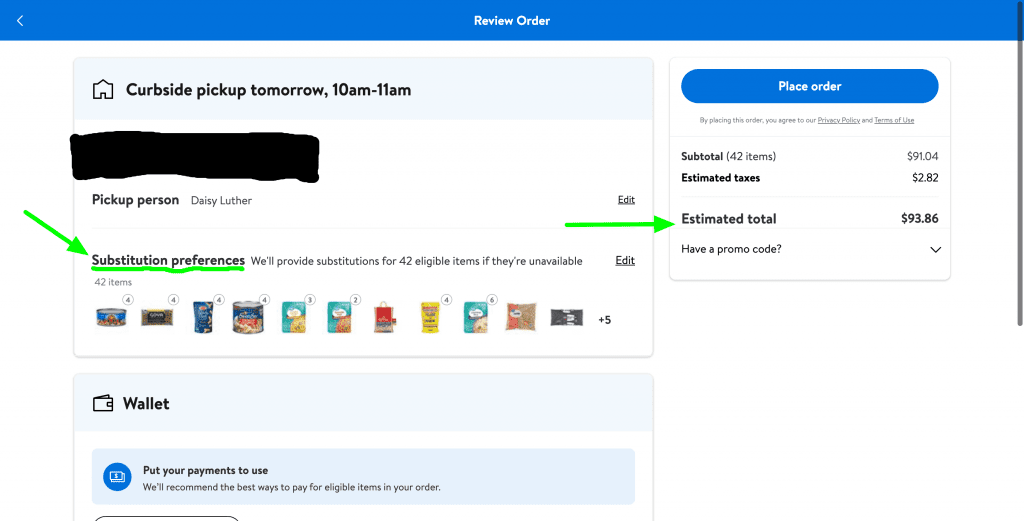 Picking up your order
At your pickup time, you will go and park in one of the numbered spaces. There will be a number to call or text where you'll let them know you have arrived and where you've parked.
Then, an employee will come out with your purchases and place them in your vehicle for you. (You've already paid online, so this can be completely no-contact if that's what you prefer.) Some stores let you tip your shopper, but they are not allowed to accept tips at Walmart.
Saving money with delivery
One thing we often repeat on this website is you are either spending time or money. However, you may still wish to have your groceries delivered. There are several ways to do this.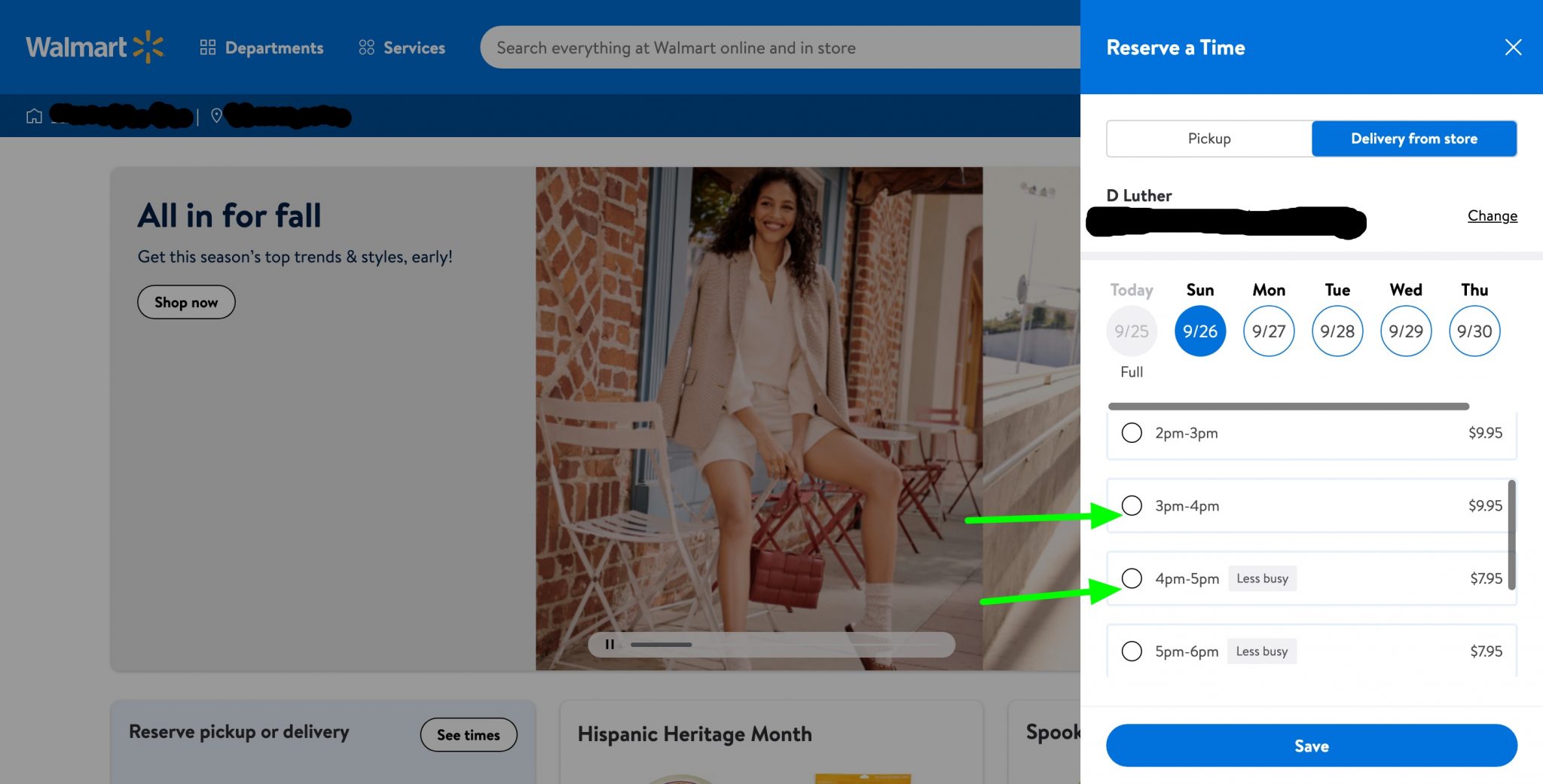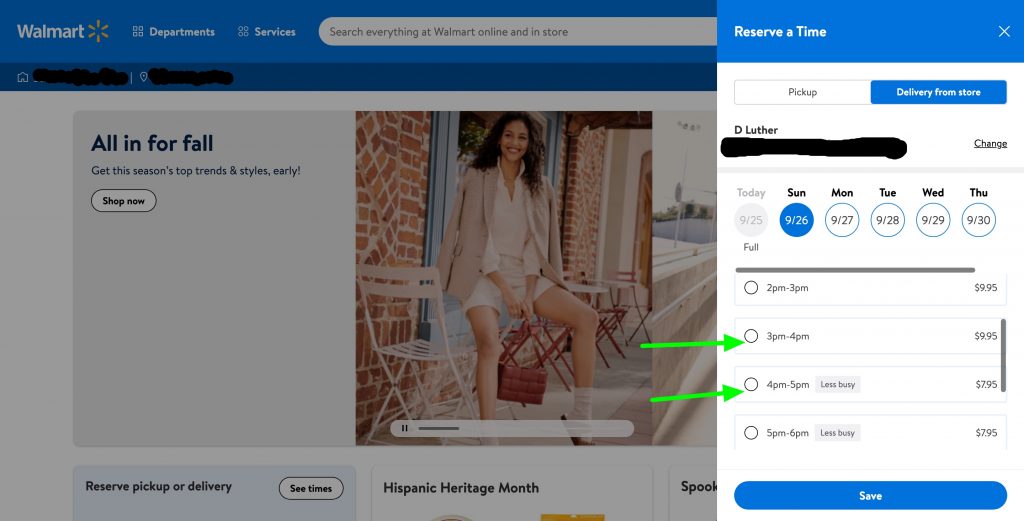 For example, the above order from Walmart can be delivered to my door. The more flexible I am about the time it's delivered, the less I pay. You should tip your delivery driver 5-10% of your order. Keep in mind how far they've had to drive, how heavy the items are, and if there are stairs or other obstacles when calculating your tip.
Another option is with a service like Instacart, which offers delivery from multiple locations. Your delivery fee with Instacart varies according to store or whether you've purchased a membership. If you regularly have things delivered, the membership is worthwhile. If it's a rare thing, you're better off just paying the delivery fee. You will also tip your shopper. Generally, the suggestion is to tip them with 5% of the purchase. Keep in mind, this is how they make their living. They are spending the time you'd normally spend at the grocery store doing the shopping for you. Then they're bringing your purchases right to your door. So on my budget of $100, I'd probably tip $10 instead of 5%—the delivery fees with Instacart start at $3.99.
Why would you spend all that money having your groceries delivered?
I've saved at least 2 hours of my time, the hassle of dealing with other people, and the effort hauling my stuff across the parking lot to my apartment for that $15-20. Depending on your schedule, your budget, and your physical limitations, this may be money well-spent.
If you don't have a car and don't live within walking distance of the store, delivery service is very worthwhile. Taking a cab or an Uber to the store is going to cost far more than your delivery fee and tip. If you take public transit, the cost is less, but you're also limited in how much you can get at a time by your ability to carry it. You don't want to miss out on potentially great deals or the ability to buy in quantity just because you don't have wheels. Plus, delivery service has all the same impulse-squelching benefits as curbside pickup.
And don't forget those who are suffering from some kind of disability. Whether it's the physical strength to lug in your supplies, the energy to get it done, or the mental effort to build yourself up to actually get to the store, having the items delivered can save physical or emotional wear and tear, depending on your needs.
Do you use curbside pickup or delivery?
When I left the US three years ago, delivery and curbside were just starting to become a thing. When Covid hit in 2020, the use of these services skyrocketed among those not wanting to go out and risk potential exposure. It also became a great stream of income for folks who had lost their jobs due to mandated shut-downs. You may not live within range of a delivery service, but you can probably still use curbside pickup if this seems like a strategy that will help you save money.
I generally prefer to go in and choose my own groceries and other products because, as a person who works from home, it's nice to get out and do my errands. But, I've found that when I'm tightening my belt financially, I'm far better off simply making my purchases online and either using curbside pickup or having the items delivered.
What about you? Do you use curbside pickup or delivery? And if so, do you find that you're saving money? Let's talk about the pros and cons of these services in the comments.