(Psst: The FTC wants me to remind you that this website contains affiliate links. That means if you make a purchase from a link you click on, I might receive a small commission. This does not increase the price you'll pay for that item nor does it decrease the awesomeness of the item. ~ Daisy)
Last Friday, I went to the neighborhood laiki (Greek for pop-up farmer's market) and got my produce for the week. Only as it turns out, some of that produce will last all month. I went up to a vendor behind a mountain of fresh, earthy potatoes and handed him a 2 Euro coin. I expected to get 6 or 7 of the enormous potatoes. Imagine my surprise when I got closer to 30.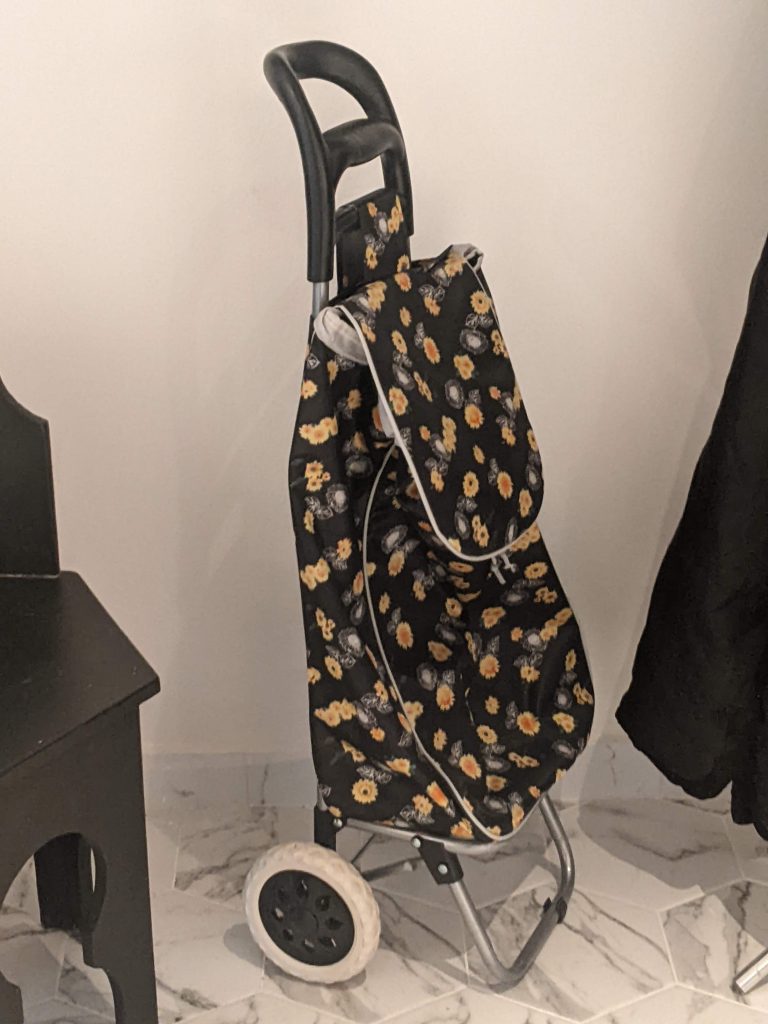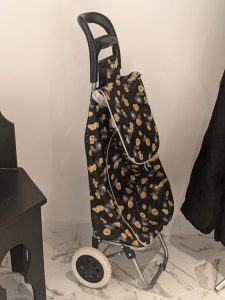 I broke down and bought a wheelie cart to haul home the twenty huge, face-sized potatoes along with the other delicious food I got. I'd been considering the cart, but the weight of the tater sack convinced me this would be a worthwhile purchase. I'd recently decided to get as much of my food at the weekly market, and now I had the means to transport it easily.
Some might have been dismayed or changed their minds when they saw all those potatoes piled into the bag, but I was thrilled.
Potatoes are a versatile and thrifty part of a Frugalite kitchen, as Colette has written before. Whether you're using them in a starring role, as a side dish, or to stretch a pot of soup across one more bowl at the dinner table, you can do it on a dime with thrifty, tasty potato recipes.
Here's what I'm doing with all those potatoes.
But First, Some Tater Trivia
A lot of carb-fearing folks avoid potatoes. Some people really do have genuine health-related dietary reasons for cutting carbohydrates, but if you are not one of those people, I urge you to reconsider. Potatoes are loaded with nutrients, they're filling, and they taste delicious.
UCDavis reports:
In addition to starch, potatoes contain vitamins, minerals, and fiber. They're rich in vitamin C, which is an antioxidant. Potatoes were a life-saving food source in early times because vitamin C prevented scurvy. Another major nutrient in potatoes is potassium, an electrolyte which aids in the workings of our heart, muscles, and nervous system. Potato skin contains fiber, which is important for digestive health.

Different types of potatoes, especially those that come in other colors, contain more nutrients that have health benefits. In general, the darker the potato, the more antioxidants it contains… Purple potatoes are rich in antioxidants including anthocyanins which may prevent heart disease and cancer and boost brain health.
I always, always left the skin on potatoes I prepared at home after scrubbing them well. I wanted to take advantage of the nutrients in the skin. Also I'm lazy and nobody really likes peeling potatoes.
There are many different kinds of potatoes than simply the white ones in the big bag at the store (although those may be your least expensive option.) To name a few:
White potato
Russet potato
Red potato
Yellow potato
Fingerling potato
Purple potato
You can also stash them away in your pantry in the form of instant mashed potatoes or dehydrated potatoes, which are often the basis of boxed scalloped potatoes. The ideas below can be made with any variety of fresh potatoes, and you can probably adapt some of them to boxed or instant.
Here are some of the things I plan on making to get the most from my plentiful potato payday.
Potatoes for dinner
Here are some tasty meals you can make with a potato as the star of the show.
Baked with toppings
I looooove stuffed baked potatoes! I like to add a few taters wrapped in foil any time I have food cooking in my oven so that I have some baked potatoes kicking around in the fridge. Here are some things you can stuff them with:
Classic (sour Cream, bacon, cheese, and chives)
Chili and cheese
Leftover taco meat, cheese, tomatoes, shredded lettuce
Leftover stroganoff sauce
Sauteed mushroom and onion, swiss cheese, sour cream
Leftover sloppy joe filling
Ham and cheese
Leftover roast beef (or other beast) and gravy
Spinach, sauteed garlic, and ricotta cheese
Broccoli (or cauliflower) and cheese
Potato Soup
There are all sorts of iterations of potato soup. I generally make it from leftover mashed potatoes by adding extra milk and stirring while I heat it up. Then I top it with things like bacon, cheese, sour cream, and green onion.
Here's a simple, thrifty scratch recipe.
Scalloped potatoes
These are a great vehicle for using up leftovers, or you can make them just regular scalloped potatoes. Here's my recipe.
Gnocchi
This is a simple and absolutely delicious recipe. Here's my daughter's version.
This one takes some work but is one of the most requested ones by my boyfriend. It takes about 3 hours to make at most, but it's worth it and freezes well. The equation I use for gnocchi is about one slightly overflowing cup of flour to one medium-sized potato.
Step 1: You have to peel your potatoes and cut out any chunks you wouldn't normally shove down your gullet. Annoying and tedious, I know. It just makes it work better. I like to chop them into tiny pieces after peeling so they cook quicker. Boil the bad boys until they are fork-tender.
Step 2: Once your 'taters are soft, you can put them through a ricer, but I don't know a single person who owns one of those. So I just squish them, with the potato masher that has been in my family since way before I was born, with a few chunks of butter (around 2tbps).
Step 3: After they're all mashed up, you'll take your flour (again, about 1 heaping cup, for one medium potato) and dump it straight onto a clean, dry counter. Make a well in the middle and add your mashed potato. Make another well and add either melted butter or a flour-water slurry. (2 tbsp. of butter, or 3 tbsp. of flour and water thoroughly mixed.) Then you're going to knead it all together until it's no longer sticky.
Step 4: After you've mixed your ingredients well, you're going to want to cut the lump of dough into about 6 pieces. Once they're chopped up you'll need to add some flour to your hands so the dough doesn't stick, you'll take the freshly floured hands and make a long roll of dough that's about as thick as the average thumb.
Step 5: You then will bring a pot of salted water to a boil. While that's heating up, take a fork and chop the roll in about 1-inch pieces, then roll them down the fork to make a cute indent on the gnocchi. I find it turns out less gummy if I let the gnocchi sit for about 20 minutes before boiling, so I will collect all my pieces, and leave them in the order of assembly. I throw together all the gnocchi logs and proceed to dump them into the boiling water. Once they float to the top, you know they're ready.
Finished! You can leave it at that, and strain them, and add your sauce, or you can make an onion butter basil sauce to fry them. That one's always a winner, and no one would believe you if you said you made it because you had nothing else to make. It's crunchy and savory, and so good you'll have dreams about it.
Samosa bowls
Do you like Indian food? I love it, especially samosas. But they're a significant amount of work.
Here's a recipe I like that is a "bowl" version – just substitute less expensive spices if you don't have these on hand.
Here's a mashed potato version too, and do the same with the spices. In a pinch, plain old curry powder will work. I add peas and carrots to mine for more authenticity, and I leave it sort of chunky.
You can top your samosa bowl with some plain yogurt and even some cilantro if you have it.
Potatoes on the side
Potatoes are an epic side dish. And currently, I'm eating them as a side with quite a few meals.
Oven fries
I find oven fries far easier to make than regular skillet french fries. It's also way less messy. I slice them up into fry-shaped pieces, then I toss them in a bowl with oil, salt, and white vinegar. If you want some flavor, go for the gusto with seasoning salt, smoked paprika, onion powder, and garlic powder.
Pop them in a 400-degree oven for about 15 minutes. Flip them and see if they need a bit more time. It all depends on the size of your tater chunks.
Mashed potatoes
Everyone knows how to make mashed potatoes – boil them up til they're tender, then mash them with milk, butter, salt, and pepper. It's the perfect side dish for just about any meal, particularly those with some type of sauce.
Roasted potatoes
If you happen to be roasting some meat for dinner, take advantage of that hot oven, and toss in some chunks of potato with your meat. They'll pick up some of the delicious meaty-flavor and won't need much in the way of seasoning.
If you are just doing a tray of roasted veggies, use potatoes are your star and add some supporting actors like onion, bell pepper, carrot, and other root veggies. Toss them in olive oil, season them with salt and pepper, and bake at 400 degrees for about 30 minutes.
Breakfast potatoes
I usually make breakfast potatoes from leftover potatoes that are already cooked. If I don't have any, then I nuke potatoes in the microwave. If they're precooked, you need far less oil for your breakfast potatoes.
If you're cooking bacon, sausage, or ham, use the grease from that as the base oil for your potatoes. It will already be heated up, so you can add your diced veggies immediately. If not, add some oil and turn on medium heat.
What veggies, you ask?
I like to use onion and bell pepper in my home fries for that classic diner flavor. Add some salt, pepper, and paprika to the skillet. Put the lid on and leave it for 10 minutes. Give it a stir, and leave it for another 5 or ten until your potatoes are brown and crispy. Serve with ketchup and hot sauce.
What are your favorite potato recipes?
I've gone over several of my favorite ways to use a wealth of potatoes. But what are your favorite potato recipes? What would you make if you ended up with a potato motherlode like I did?
Let's talk taters in the comments!
About Daisy
Daisy Luther is a coffee-swigging, adventure-seeking, globe-trotting blogger. She is the founder and publisher of three websites. 1) The Organic Prepper, which is about current events, preparedness, self-reliance, and the pursuit of liberty; 2) The Frugalite, a website with thrifty tips and solutions to help people get a handle on their personal finances without feeling deprived; and 3) PreppersDailyNews.com, an aggregate site where you can find links to all the most important news for those who wish to be prepared. Her work is widely republished across alternative media and she has appeared in many interviews.
Daisy is the best-selling author of 5 traditionally published books, 12 self-published books, and runs a small digital publishing company with PDF guides, printables, and courses at SelfRelianceand Survival.com You can find her on Facebook, Pinterest, Gab, MeWe, Parler, Instagram, and Twitter.