(Psst: The FTC wants me to remind you that this website contains affiliate links. That means if you make a purchase from a link you click on, I might receive a small commission. This does not increase the price you'll pay for that item nor does it decrease the awesomeness of the item. ~ Daisy)
Saving with Staples is a series where I look at a pantry staple and consider its nutritional value. Then, I investigate the economics of this staple: what is the most cost-effective way to buy it? Finally, I offer some suggestions on how to eat and serve this staple to get the most benefit from the savings that it offers.
While onions are generally not an overly expensive vegetable, they are rarely the main "dish," so to speak. That doesn't mean that their supporting role in meals isn't important. In fact, I would argue that eating more onions can save you a lot of money! Another benefit of onions is that they generally store well at room temperature or a bit below, and they don't need high humidity to stay edible.
Let's see how onions add up as a staple to save with.
Health Benefits of Onions
When a Registered Dietician calls a vegetable "highly nutritious" that is something that I pay attention to. I think it also takes a lot for a dietician to call the health benefits of a vegetable "impressive." Yup! That's onions!
So, if you were thinking the onion is a second-tier vegetable, think again! Here is a list of the many health benefits of this impressive vegetable:
1) High in nutrients: These include potassium, and also B vitamins and vitamin C.
2) Good for your heart in multiple ways: Onions contain antioxidants that can be anti-inflammatory and reduce blood cholesterol. Not just one or two: how about at least seventeen different anti-oxidants! That's good news for your blood pressure and your heart.
3) Anti-cancer properties: Some antioxidants found in onions have been found in research to inhibit tumour growth. There is also a sulphur-containing compound in onions that acts in a similar way.
4) Help manage blood sugars: This is another benefit of some of the antioxidants and sulphur compounds in onions.
5) Increase bone density: This may seem like a strange benefit for a vegetable, but many studies have shown that people who eat more onions have sturdier bones.
6) Antibacterial properties: Onion extract has been shown to kill several dangerous types of bacteria.
7) Improve gut health: We now know more than ever how important it is to feed the good bacteria in our gut. Onions contain that important type of fibre that they like to eat.
[Source]
What are the frugal ways to buy onions?
I compared a number of ways to buy onions as I prepared this article. While the prices may vary from region to region, I am pretty sure that this ranking would not vary, unless there was a very good sale on. In my region, the most common way to get onions is in a bag. The price for 3 pounds of yellow onions at a popular local discount grocery store is $2.25. For 3 pounds of organic onions, you're going to pay double that. Would you like organic red onions? That will cost almost triple the price of the yellow onions.
Are you concerned about pesticides on your onions? In terms of the "dirty dozen" (more pesticide residue) and "clean fifteen" (less pesticide residue) that some may be aware of, this year, onions come in at number 43, so they are a member of the "clean fifteen." So, if your budget is tight, you could only buy organic varieties of the items on the "dirty dozen" list. By doing that, you will save a lot, as we have seen from the prices of organic onions!
In terms of buying onions, the saying could be, "The more, the merrier." I have always found that I save on onions when I buy a 10-pound bag, as compared to a 3-pounder. However, these are not always available.
At harvest time, there may be more options for you. Some grocery stores in our area offer 10 lb bags in the fall. You may be able to contact a local farmer to ask if you can glean his fields in exchange for some produce. You may be able to place a bulk order with a local farmer and use a dry, cool storage room to extend the life of your onions.
Here are a couple of cautions when it comes to buying onions. If you want to save time and buy frozen pre-chopped onions, you are going to pay dearly for the time saver: Add another 50% to the cost of yellow onions in a bag for frozen chopped onions.
If you want to buy dehydrated, chopped onions, be aware that you will be paying ten times the price of yellow onions in a 3-pound bag. You might want a few for long-term storage, but buying these all of the time would get expensive!
You should also be cautious about buying onions regularly individually. Think that you're getting a fair price for that onion? Think again! At our local discount store, individual onions are charged by weight at a price more than twice what you would pay when you buy a three-pound bag!
I hope seeing these differences in prices opens your eyes to how you might save when you next buy onions. Even a small change, like substituting a bulk bag of onions for an individual onion, will help you save money.
Creative ways to use onions during lean times
When times are tough, I add onions to everything. They give me fiber to fill me up and lots of nutrition.
This past winter, I got to the bottom of my 10-pound bag of onions, and they were all starting to sprout. Rather than get discouraged, I threw them all in an aluminum roasting pan with some dirt. Hurray! I had fresh green onions for the rest of the winter!
When the 10-pound bags become available in the fall, you can save a lot of money by chopping a bag up, portioning it, and freezing the bags.
Here are some other ways to use onions along with pantry items in a way that saves you money:
Onion Snack
When I ran short of rutabagas to make latkes with this spring, I just added an onion in to make up the difference. They were delicious! I love making savory pancakes and throwing in onions, corn, rutabaga, and whatever I have on hand. I find these make delicious and healthy snacks, and they keep well.
Here's a sample rutabaga latke recipe to get you started.
Onion Main Dishes
When I get to supper time without a plan, an onion omelet will always do the trick: a couple of beaten eggs and milk and some chopped onion, and whatever herbs and spices strike my fancy. Voila! Supper!
In the cooler months, if you have never tried it, I highly recommend making French onion soup at least once in your life. Carmelized onions and cheese…what's not to like?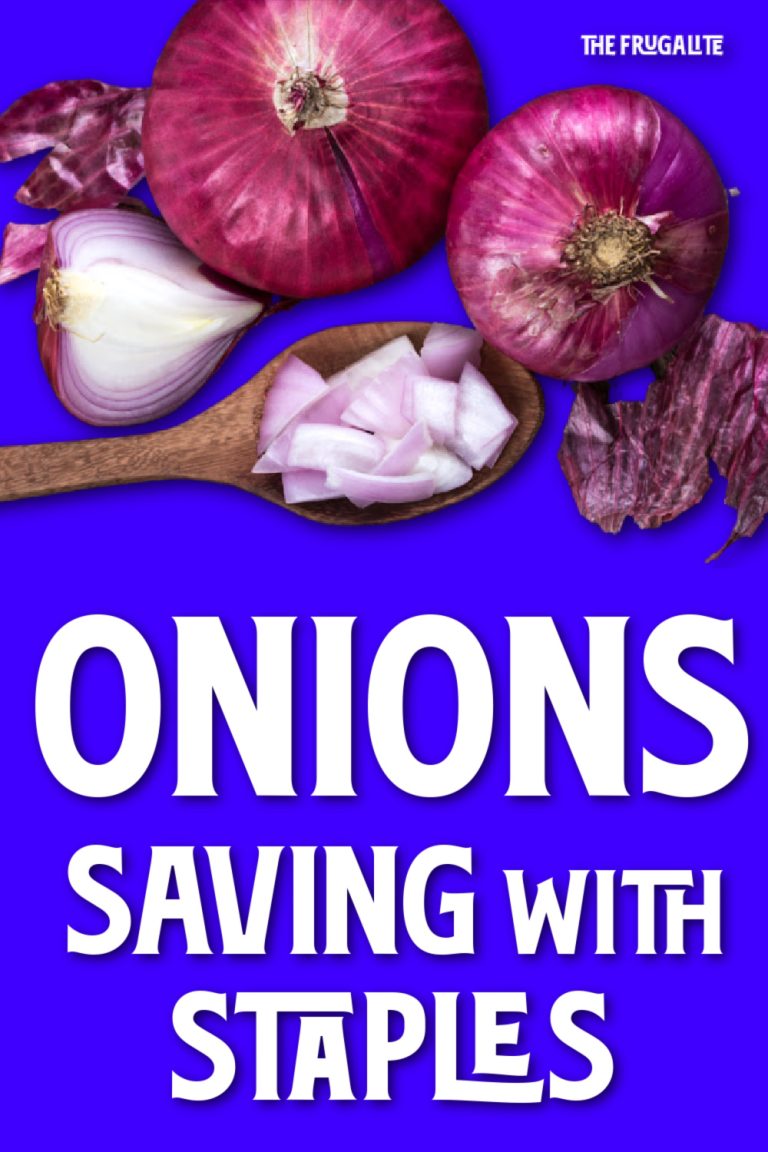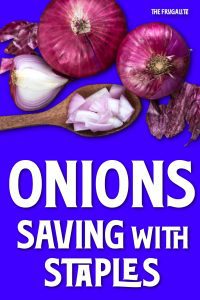 Onions are a pretty important part of a simple stew, like Irish stew, which is wonderful on cold days.
In the warmer months, I love to have chopped raw onion in all of my pasta and bean salads, along with whatever other veggies and fresh herbs I have on hand.
German Potato Salad, which can be served cold or warm, also features onions, along with potatoes, and bacon.
Onion Side Dishes
Carmelized onions can go on anything. They are great on burgers!
During BBQ season you can also grill onions as a tasty side dish.
If you like pearl onions, here is a great recipe to eat them creamed.
Onion Condiments
In my wonderful Mennonite cookbook, one of the books that I use to save money, I found a recipe to pickle plain white onion slices in a simple brine. The only ingredients are sugar, salt, dill seed, white vinegar and water. If you are in a pickle, and can't afford pickles and you have some onions on hand, these could be delicious.
I highly recommend buying the More-with-Less Cookbook. So many of my favorite recipes come from there, and there are countless money-saving tips, too.
Onions: Savings to bring a tear to your eye
Onions are a frugal pantry classic with lots of potential for savings. Could you see yourself trying any of the thrifty tips offered here? Do you have one you can share with us? What is your favorite way to use onions? Please tell us in the comments section.
About Colette
Colette is passionate about sharing her knowledge of thrifty living and self-sufficiency. She has developed her skills in self-reliance living in the suburbs, the city, and more recently, on her own Half-Acre Homestead. Colette lived five years completely off-grid and without running water in an eight by 24 foot tiny home while designing and building her own 18 by 24-foot eco-cabin. Her website, Half Acre Homestead is attracting followers from around the world who want to become more self-sufficient. Colette invites you to stop by the Homestead and check out all of the great resources including the practical How To Guides, A Tiny Home Resource Center and her organic gardening stories on her blog. She shares her wholistic model (body/mind/spirit) for achieving self-sufficiency in her Free Course, "Growing Self-Sufficiency: The Whole Picture." Stop by the Homestead today to register free of charge!