(Psst: The FTC wants me to remind you that this website contains affiliate links. That means if you make a purchase from a link you click on, I might receive a small commission. This does not increase the price you'll pay for that item nor does it decrease the awesomeness of the item. ~ Daisy)
Ladies and gentlemen, fellow Frugalites, I finally hit an unfortunate milestone in my thrifty travels filled with well-chosen AirBnBs: the last place I stayed did not have a kitchen.
Okay, it did, sort of. There was a stove, but it terrified me. You had to light it with a match, and it gave a deep BOOM each time you did. After I watched the owner light the stove and heard that boom, I silently vowed not to touch it again for as long as I was there.
And it was a good thing. A few days later, a knock came at the door, and it was building maintenance. After a series of Google Translate messages, sign language, and an intervention by the owner, it turned out that the stove was LEAKING GAS. So it could have really gone boom if I'd lit a match and tried to get the burner or oven going. I was so glad I listened to my gut and not the friend (don't worry, I still love you) who told me I was being a weenie.
So anyway, I had a fridge but no way to heat up anything. This is a situation Frugalites could run into for a variety of reasons:
You're traveling.
You are between homes.
Your stove broke, and you can't yet swing the cost of a new one.
You've rented a room as opposed to an apartment.
Those are just a few reasons I can think of off the top of my head.
I like eating out as much as the next person, but doing so for every single meal would be hard on the budget, no matter how inexpensive the locale. So, here's what I did.
Limited kitchen essentials
If you don't have a kitchen, a couple of inexpensive appliances can go a long way. A couple of these suggestions assume that you have electrical power.
A way to keep things cool: I had a refrigerator, but if you don't have one, a cooler will do. You'll just need to fill it with ice each day.
A way to boil water: An electric kettle means you can make tea, pour-over coffee, or instant coffee for that morning caffeine jolt and it's far, far cheaper than hitting the local java joint. You can also add boiling water to instant oatmeal and soup mixes.
A way to toast bread: A toaster or one of those panini makers can really jazz up a sandwich. I found a panini maker at a local thrift shop and it was a really nice addition.
A microwave or toaster oven can be a gamechanger, but these are far more expensive kitchen additions.
Don't have a kitchen? Here's what to eat.
This isn't going to enumerate every single solitary meal you can create without a kitchen, but hopefully, it will provide some FOOD for thought. (see what I did there?)
Delicious no-cook-meal #1: Deli-style lunch
Sandwiches: I picked up some tasty meat at the deli, some sliced cheese, and some bread from the bakery. Add your favorite condiment and maybe some lettuce and tomatoes, and you're in business.
Cold side dishes: Pick these up readymade from the store. Coleslaw, potato salad, and macaroni salad will make that sandwich feel more like a meal.
Pickles: Add a pickle spear and a handful of plain potato chips for even more of a lunch-at-the-delicatessen vibe.
Delicious no-cook-meal #2: Yogurt parfait
Plain yogurt: I like to stir some vanilla protein powder in it to boost the nutrition but just plain is fine too.
Fruit: blueberries, blackberries, strawberries, sliced bananas, peaches – pick your favorite!
Granola: I love a good-quality granola with some nuts, honey, and perhaps a bit of dried fruit. If money is tight, a crunchy cereal will work fine.
Layer all of this together in a bowl for a yogurt parfait breakfast.
Delicious no-cook-meal #3: Salad
Everyone knows how to make salad, of course. Grab yourself some fresh produce and go to town. Lettuce, tomatoes, cucumbers, peppers, cheese, onions, zucchini – whatever you like! If you get it at the farmer's market and it hasn't been refrigerated, then you can eat this at room temp. Just drizzle on some oil and vinegar and sprinkle it with salt and pepper.
Delicious no-cook-meal #4: Mini charcuterie plate
If you have a fridge, this is super easy and feels fancy.
Meat: get some delicious, thin sliced meat from your deli counter.
Cheese: grab a variety of cheeses in small portions
Preserves: I absolutely love the combo of sweet and savory. If you can find it, onion jam is awesome with this, but if not, something like peach or raspberry works well too.
Fruit: Grapes and apple slices are the classic. I was able to find fresh pears at the market so I used those.
Pickles: People here in Romania live for pickled veggies. A little serving of mixed pickled veggies or your favorite pickle spears would be nice on your platter.
Crackers: Choose 2-3 different crackers if you like variety. I like a sturdy cracker with some texture to it.
This will make you feel elegant and you may even want to break out the wine. I could eat this every day of my life and never get tired of it.
Delicious no-cook-meal #5: Tuna salad
In the mood for protein but have no way to cook it? Look no further than a can of tuna. Also, if you hate or avoid tuna, canned chicken works for this as well.
Canned tuna: get your favorite type – oil or water, it doesn't matter – and drain it well
Dill: fresh or dried
Mayo: If you're a mayo hater, you might like dijon mustard better. Or even make a combo of the two.
Chopped veggies: You can chop up celery and onion to add some crunchy flavor to your salad.
OR
Canned veggies: Believe it or not, canned green peas or peas and carrots, drained well, are pretty decent in tuna salad.
Black pepper: Is it even tuna salad without a liberal dousing of black pepper?
You can serve this with crackers, over a lettuce salad, or in a sandwich. My childhood favorite was tuna salad on saltines.
Delicious no-cook-meal #6
Looking for a hot meal loaded with protein? Look no further!
Rotisserie chicken: bring it home and eat it right away.
Premade salad: Do you have any potato salad, macaroni salad, or coleslaw left from your deli meal?
Dinner rolls: I think this meal absolutely requires fresh, soft dinner rolls from the bakery.
The leftover rotisserie chicken makes a nice salad like in no-cook meal #5 or a sandwich like in no-cook meal #1.
Delicious no-cook-meal #7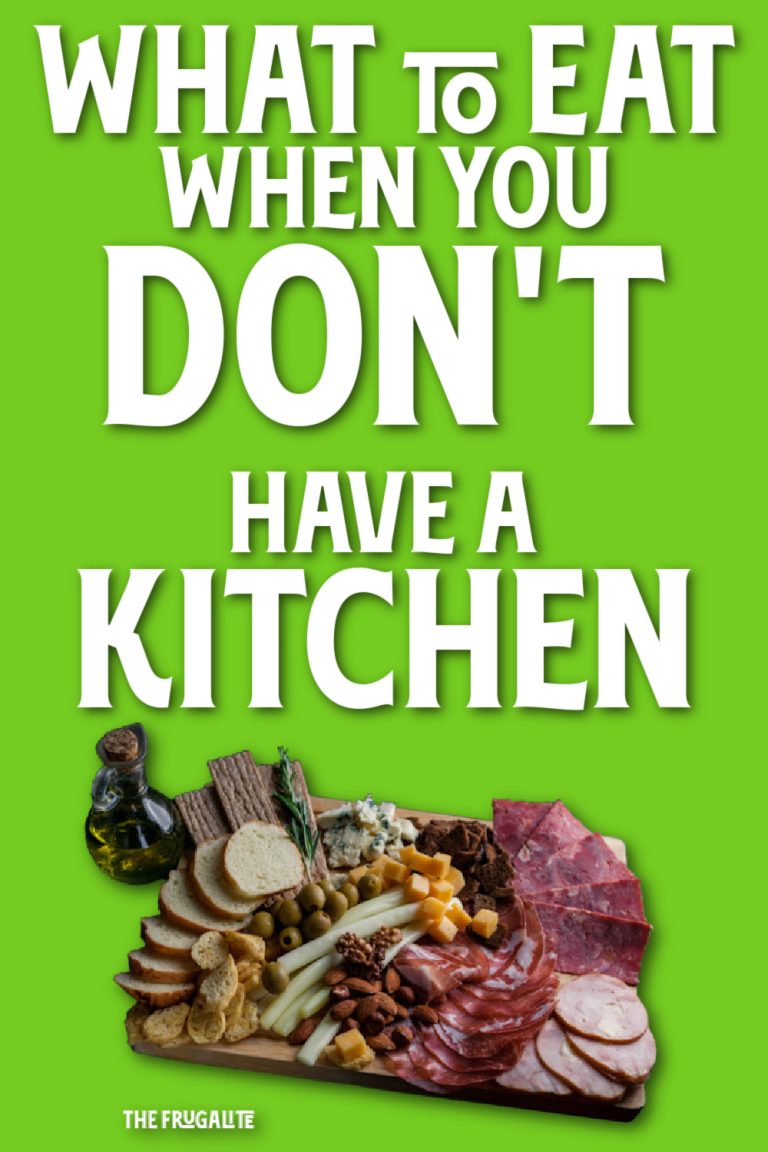 Dip night! Grab an assortment of dips and dippers and make yourself a plate.
Hummus
Baba ghanoush
Some kind of creamy dip
Salsa
Baby carrots
Celery sticks
Bell pepper slices
Cucumber spears
Crackers
Pita bread
Tortilla chips
Potato chips
What do you suggest eating when you don't have a kitchen?
What are some reasonably thrifty meals you can throw together without cooking? Have you ever been in a position where you weren't able to cook? What was the reason? What did you eat? What are your best tips for people who don't have a kitchen?
Let's talk about it in the comments section.