(Psst: The FTC wants me to remind you that this website contains affiliate links. That means if you make a purchase from a link you click on, I might receive a small commission. This does not increase the price you'll pay for that item nor does it decrease the awesomeness of the item. ~ Daisy)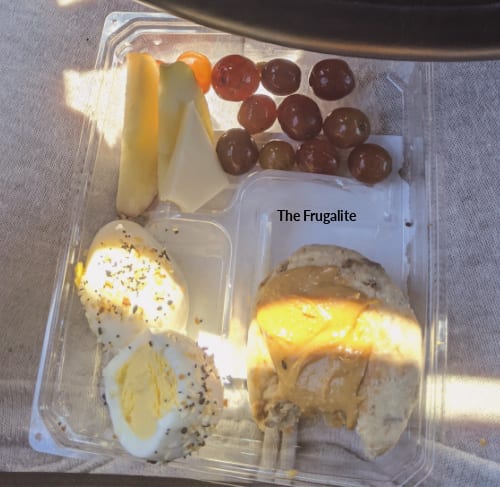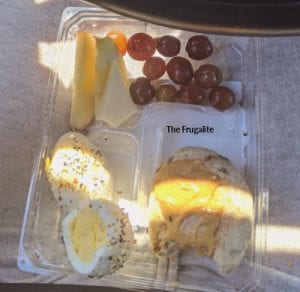 On a recent road trip, I spent an astonishing amount of money at Starbucks buying a little plastic box with fruit, a muesli pita bread, boiled eggs, and peanut butter. I was unprepared for an extra day on the road and grabbed the healthiest looking thing I could find and gritted my teeth all the way to the cash register.
But in this box, I discovered something magical.
There was a teeny, tiny packet of Everything Bagel seasoning tucked under the eggs.
I had never even considered putting that on boiled eggs but it was absolutely delicious. I started thinking about what else I could put that seasoning on.
I looked up the seasoning and found that Trader Joe's has a popular one called Everything But the Bagel seasoning. And then I saw it was $8.49 for a jar of it. And of course, then I thought of how I should make the seasoning for myself. The ingredients are super easy to find at most grocery stores, and you may already have most of the items on hand. Once you buy them, you can make numerous batches of Everything Bagel seasoning. (Maybe even for a homemade gift?)
Everything Bagel Seasoning recipe
This delicious seasoning has only five ingredients and will add some flavorful crunch to just about anything.
2 tbsp Poppy seeds
2 tbsp Sesame seeds
1 tbsp Minced garlic (dried)
1 tbsp Minced onion (dried)
1 tsp Coarsely ground sea salt (you can add more salt if this isn't enough)
Actually, I hesitate to even call this a recipe.
You put all this stuff into a little jar, shake, and you're done.
What can you flavor with Everything Bagel Seasoning?
Here are just a few things that could be made tastier with your new seasoning mix.
Boiled eggs
Cream cheese on a regular bagel
Avocado toast
Garden-fresh sliced tomatoes
Potato dishes
Chicken
Fish
Noodles with butter
Egg, tuna, or chicken salad
Macaroni salad
Potato salad
Coleslaw
Garden salad
Popcorn
Grilled cheese sandwiches
The sky's the limit. You can use this to add some savory crunch to just about anything! What do you sprinkle this tasty seasoning on? Let me know in the comments!