(Psst: The FTC wants me to remind you that this website contains affiliate links. That means if you make a purchase from a link you click on, I might receive a small commission. This does not increase the price you'll pay for that item nor does it decrease the awesomeness of the item. ~ Daisy)
My entertainment budget used to be huge when I lived in a major city many years ago. Now, I no longer have an entertainment "budget" per se. I thought I would take an opportunity to share how I stay entertained without really spending on this part of my life. In reality, I am happier than I have been in years, despite recent challenges with my health. So, what the heck is going on with that?
My past big-budget lifestyle
Living downtown on the waterfront in a major Canadian city, the world was my oyster a decade ago. I was right at the center of the excitement, and I wanted to make sure I was taking advantage of it. I enjoyed attending countless arts events, including opera, ballet, art gallery shows, film festivals, and countless concerts and festivals.
What was expensive about all of these activities? People dressed up for them. I was no different. I had a huge wardrobe of beautiful and expensive clothing. Part of the big city excitement was also eating out. I had restaurants where I could walk and and the maître d' knew my name. Eating out was part of the fun, either before or after the event. Even when I entertained at home, I spent a lot. At the time, it was part of my lifestyle. Now, my thinking is quite different.
Frugalite philosophy: what IS entertainment?
In researching this article, I reflected on the definition of entertainment from dictionary.com: something which offers "pleasure, diversion, or amusement."
Notice that the definition of entertainment doesn't include the requirement to spend money to get it! My big city life has now transformed into a rural lifestyle on my Half-Acre Homestead. With my financial priority being the completion of my eco-cabin, I don't spend on anything I can live without.
I now live on a fraction of my big city income but feel much richer. Many of my big-city friendships have faded away. I have a small number of friends who appreciate me for who I am. One I've known for over 30 years. Another I met more recently, over four years ago. I define my entertainment now as activities that bring joy into my life and enhance my feelings of connection with people that I care about. Here is how I "entertain" myself according to my new values.
Visiting friends and family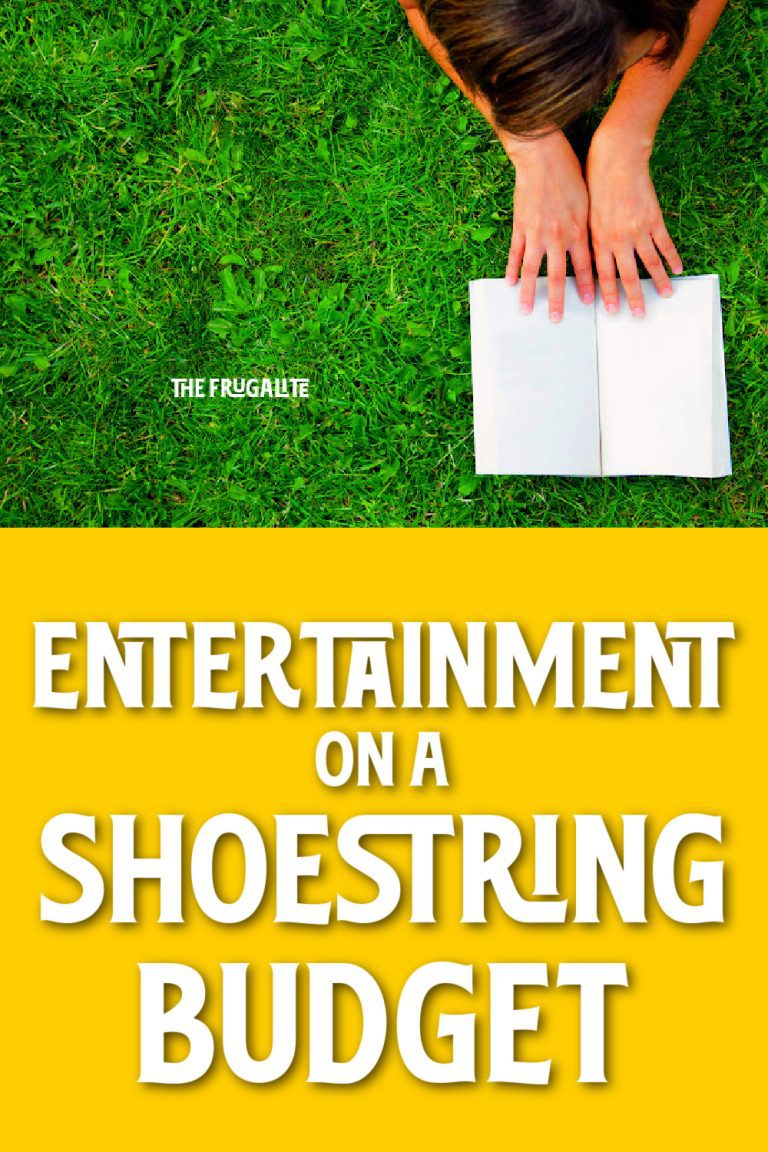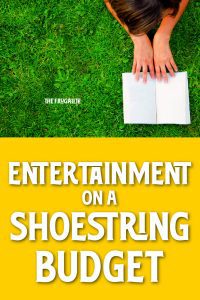 Yes, life does get busy. No matter how busy I am, my top priority is connecting with the people I care about. Every Monday morning, I am usually starting my week by visiting my friend for a cup of his great coffee; he lives only minutes away. This morning when I called him to check in, he was on the road helping one of his sons. We'll do this tomorrow or the next day, then.
This evening, I am getting together online with my other good friend of 30-plus years. I'll also be texting a brand new friend to arrange a walk out in nature for this week. It's also possible that another friend and her boyfriend and I will all be going fishing in her boat on our beautiful local lake. This Wednesday, I'll do my weekly online meeting with my mother and sister, who both live in a distant city. After that, I'll be online with my meditation group for our weekly meeting, one of my favorite times of the week. Virtually every day, I do something to maintain my connections to friends and family. This brings me joy, and I think it is actually good for my health!
Shared streaming account and other free options
Many years ago, one of my cousins offered me access to her movie streaming account. Although I have offered to pay, she has declined. When I want some "diversion," it is nice to know I can log in and tune out. I am a huge science fiction fan and love seeing the latest ideas in new sci-fi features. (Please note that some streaming services are starting to disallow shared accounts.)
However, I often enjoy free options just as much as movie streaming or even more. For example, when my herbalist mentor Dr. Patrick Jones comes out with a new blog post, I stop everything I am doing, make a cup of herbal tea and sit down to watch it. I love the combination of his great sense of humor and the chance to learn something new about herbal medicine. Similarly, I find that they are so many high-quality options out there for content in topics I am interested in that I could honestly live without the streaming service if I had to!
Thrift shop/library reading
My reading tastes definitely tend toward non-fiction. I have a library of resource books on homesteading topics that I enjoy reading, even in short spurts. Our local church-run thrift shop has books for a fraction of what other profit-driven thrift shops charge. Between this low-cost resource and the books I can get free at our local libraries, I need never go without any knowledge that I seek. One of my highlights of this past spring was finally locating a resource that allowed me to definitively identify a particular cinquefoil plant that grows on my homestead. That gives you an idea of what I love!
Library resources and free events
I live in a gorgeous rural area with a provincial park nearby. The problem? Even driving into the park now costs around $15 per day. However, our library offers day passes for free to library card holders. This is just one example of the creative ways the library is supporting people to entertain themselves; others include local museum passes available for pickup as well.
I just checked the local township website and found a free concert to attend in August. Beautiful (free) music on the shore of a scenic lake. Now, that's living! Our local fair has a ton of concerts included in the modest entry fee of $7. I plan to attend one evening for fun and check out the other displays at the fair that afternoon.
Entertainment is in the eye of the beholder
Entertainment is often associated with spending money, but I don't think it has to be.
Could you see yourself trying any of the thrifty tips offered here? Do you have one you can share with us? How do you entertain yourself without spending money? Please tell us in the comments section!
About Colette
Colette is passionate about sharing her knowledge of thrifty living and self-sufficiency. She has developed her skills in self-reliance living in the suburbs, the city, and more recently, on her own Half-Acre Homestead. Colette lived five years completely off-grid and without running water in an eight by 24 foot tiny home while designing and building her own 18 by 24-foot eco-cabin. Her website, Half Acre Homestead is attracting followers from around the world who want to become more self-sufficient. Colette invites you to stop by the Homestead and check out all of the great resources including the practical How To Guides, A Tiny Home Resource Center and her organic gardening stories on her blog. She shares her wholistic model (body/mind/spirit) for achieving self-sufficiency in her Free Course, "Growing Self-Sufficiency: The Whole Picture." Stop by the Homestead today to register free of charge!