(Psst: The FTC wants me to remind you that this website contains affiliate links. That means if you make a purchase from a link you click on, I might receive a small commission. This does not increase the price you'll pay for that item nor does it decrease the awesomeness of the item. ~ Daisy)
In this article, I want to open up about something near and dear to my heart, something that I struggle with right alongside many others. Mental health.
Over the years, I have struggled a lot with depression and anxiety, and I'll be the first to admit it. I didn't always feel this way. In my journey of self-discovery and getting better, I've found that opening up and being honest with those around me has helped. I won't get into the nitty and gritty of some of the causes and events in my life that have led to my down periods, (that's not the point of this article). Suffice it to say that mental health has played a large role in my life since my early teen years, and I have gone through a lot.
While there are many articles out there on mental health in general, it's often overlooked how much your mental health can affect your finances.
You're not alone.
First off, I want you to know that you are not alone. What many don't realize is that an estimated 26% of American adults struggle with mental health issues in a given year. That's approximately 1 in 4 people, hundreds of thousands of people. It's not easy, and it is often difficult to find support. However, knowing that you are not alone, well, for me that was huge.
Just a note, if you are really struggling and you need to talk to someone, National Suicide Prevention Lifeline is a free service that is always there to help. They can be reached at; 1-800-273-8255.
What does money have to do with mental health?
Money issues can come in all shapes and sizes. It can stem from an unexpected hospital bill, a job or income loss, debt (like credit cards) piling up, unexpected expenses like your fridge dying or a car breaking down. The possibilities are endless, but they all result in one thing; more financial stress. With many Americans living paycheck to paycheck. Just one unexpected expense can send you into a financial freefall.
When money issues come out to play, this adds undesired stress and strain on nearly every aspect of your life, and the fact that we're going through a pandemic right now doesn't help. Money and mental health, when you let it, can become a vicious cycle.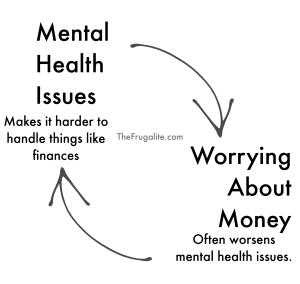 When you're struggling with your finances, it can often worsen any pre-existing mental health issues. As your mental health deteriorates, it makes it even harder to handle all the things your life throws at you. This vicious cycle will often feed into itself until you do something to break it.
Need an example?
Let's set the scene.
You live a happy little life with your two children, ages 3 and 7, and your husband. Your husband works the morning shift at a factory, and you work evenings at a little diner across town. You don't see each other very often, but you're happy, and by working different shifts, you're able to save on daycare expenses as someone is always home with the kids.
You think you're managing fine. Your not rich by any standard, but, over the last couple of years, you're proud of yourselves for managing to save about $500 in an emergency fund. While you know it's not much, it at least provides a little cushion, if, say, your one and only car breaks down.
One day, there is an outbreak of Covid-19 at your husband's factory, and he catches it. Bad. Suddenly, he's in the hospital on a ventilator, your kids manage to avoid it (by some miracle), and you only get a minor case. While you didn't get it too badly, you still are off work for a month, your husband is in the hospital for 3 weeks, and your kids can't go to school.
Thankfully, you had that emergency fund, and that managed to pay for your groceries, and a little bit of the rent, but all of the sudden, you're behind on rent, you have a giant hospital bill to pay, and you just returned to work after a forced three week "vacation." While you're starting to bring in a bit more money again, you start to worry, and really frett, because the bills that you were barely managing to pay before are piling up, and you're down to half your household income.
You begin to run yourself ragged at work, picking up every shift you can to try and make ends meet, but this just adds to the stress. You get a second job and are now working 14 hour days 6 days a week, while also trying to take care of the kids, keep the house clean, and make the meals, as your husband is still recovering.
Barely getting any sleep, and constantly needing to do something, you start to become depressed and your energy starts to dwindle. You start to slip up and lose hours at work. This makes the money tighter.
Then, your car breaks down. The repair will cost $700, and you need it fixed because your main job is all the way across town, and there isn't public transit due to Covid.
You don't know how you're going to pay for the car, rent, and groceries this month. You become so depressed and anxious, you have a full-on breakdown.
I'll stop there. I think you get the idea. The point though is that this, or sometimes even a worse scenario than this, is the everyday reality for many people. As the money issues get worse, it gets harder to pay your bills, so you try to work more, and it gets harder to handle your stress. The cycle is vicious, and not somewhere anyone wants to be.
Your mental health can also cause spending sprees.
When I was going through one of my hardest times, I didn't have work for 8 months, and I still had to pay my bills, and get my essentials like groceries. So my credit cards got racked up.
As the amount owing got higher, it made my depression worse, so I tried to buy things to make me feel better (not something I recommend). It got even harder for me to stick to my budget which I eventually just threw out the window.
4 years later, I'm still struggling to get out from under the mountain I created, but slowly and surely, I am.
Emotional spending is extremely common.
Emotional spending occurs when you buy something you don't need and, in some cases, don't even really want, as a result of feeling stressed out, bored, under-appreciated, incompetent, unhappy or any number of other emotions. In fact, we even spend emotionally when we're happy. For instance, what did you buy yourself the last time you got a raise?

There's nothing wrong with buying yourself nice things from time to time, as long as you can afford them and your finances are in order, but if you're spending more than you'd like to on non-necessities or are struggling to find the cash to pay the bills or pay down your credit card debt, learning to recognize and curb your emotional spending can be an important tool. (source)
It's difficult, but you can get a handle on it.
Recognize the Signs
There are so many signs and symptoms of stress and depression, and it's important to recognize them in yourself before they get too bad. When you do, you can better adapt and reassess, so hopefully, things don't get as bad.
Emotional Symptoms
Getting more agitated or frustrated
Getting overwhelmed, and feeling a loss of control.
The inability to relax
A lowering self-esteem
Avoiding others
Physical Symptoms
Low Energy
Headaches
Aches and pains
Upset stomach (in all it's various forms)
Insomnia
Change of appetite
These are just some of the most common symptoms that people experience, but there are still so many more.
How can you manage stress before it breaks your budget?
There are many things you can do to help with your stress and depression when the symptoms start to creep up, but the biggest? Find a way to do some self-care.
Self-care is a huge thing, and not just when things get hard. I try to practice at least a little self-care every day that way it increases my tolerance to deal with the hard stuff.
Below are some of the things I do that cost very little and help not only me but others as well.
Get some fresh air
Getting outside (especially out for a walk), really can improve your mental health. Not only will you get a little more Vitamin D, but you'll also get a little exercise (which will give you endorphins and endorphins make you happy), having something different to focus on.
Write it down
Try getting something to write on. Doesn't matter if it's a notebook, a journal, a scrap of paper, or even the notes section on your cell phone, just get somewhere to write.
Now, take 2-5 minutes, and just dump. Write down all the negative things going through your mind. All the self-doubt, or anxiety, the stressors, the annoyances, just anything negative in your head, I want you to write it down. You can put it in point form, sentences, whatever you want. This is for you and you alone.
Once you've done a negativity dump, comes the hard part for most.
I want you to take a minimum of 2 minutes (trust me, for most this, is harder than it seems at first), and I want you to write down the positives. This can be anything, it can be things you're grateful for or things you like about yourself or your good at (I highly recommend at least a couple of these), things that make you happy, things you cherish and are passionate about. Again, this can be in any format you want. Just make it positive.
By doing this, you get a chance to just dump all of your negative feelings and thoughts and replace them with all things good. I recommend doing this at least a few times a week (for me it's a daily habit). Do it first thing in the morning to set a positive mood for the rest of the day, or right before bed, so those anxious pesky thoughts don't keep you up.
Do something you enjoy (guilt-free)
It's okay to take time for yourself. This is something many struggle with, especially those in the role of taking care of dependents. Think of it this way though. If you're on an airplane, and the oxygen masks come down, you're supposed to put on yours before helping anyone else. Why? Because, if that person beside you, be it someone incapacitated, a child or anyone else struggling can't put on their own mask, they're sure as heck not going to be able to help you put on yours if you pass out from lack of oxygen.
You have to help yourself first in order to be able to help others. If you leave nothing for yourself, you won't have anything to give to others. And you know what? It's okay to take care of yourself. I know it's hard sometimes, but you matter to, so take that time for yourself and don't feel guilty about it.
Some things I like to do;
Watch or listen to something motivational
Whatever your circumstances, there is always hope and motivation to be found. A mentor of mine recommended to me I start off every day with something motivational. It's really helped me, so I'm passing on the advice to you.
Try starting off each morning with something motivational. There are a million videos on youtube or podcasts on the internet. If you find yourself short on time, that's fine. You don't have to sit and do only that. Play the video while you get ready for the day. Listen to the podcast on your walk or commute to work.
Remember, you're not alone
I know I said this at the beginning, but I just want to remind you once again that you are not alone. If you need help, reach for it. The people that love you would rather listen to your problems than your eulogy.
There are many recourses for mental health issues and financial issues. There is always another option.
And again, if you are really struggling and you need to talk to someone, National Suicide Prevention Lifeline is a free service that is always there to help. They can be reached at; 1-800-273-8255.
What are your thoughts?
Have you ever had money problems due to mental health issues? Or have you ever had mental health issues due to money problems? What is your advice? Share your story in the comments.