(Psst: The FTC wants me to remind you that this website contains affiliate links. That means if you make a purchase from a link you click on, I might receive a small commission. This does not increase the price you'll pay for that item nor does it decrease the awesomeness of the item. ~ Daisy)
I have recently undertaken the huge job of trying to clear out my storage area, where a large number of bins are stored. Downsizing isn't easy. Being a Frugalite, I am not paying for this space, which is in my aunt's basement: I am bartering for it. However, I know many other people store items in the basement of her large ranch house and she now has a tenant living down there. Out of respect for her space, and also recognizing that I have not been using any of these items for years, I am trying to get rid of everything I can.
At the same time, I have been working to empty out my two sheds, which are overflowing with extra construction materials from my build and things I haven't used in years. As well, I have recognized that my endless collection of farm antiquities is about to fill up and push me out of my own eco-cabin! With all of these experiences of downsizing on my mind, I have undertaken to share my thoughts on how to approach this with a thrifty mindset. I am sharing my best tips on how to get rid of stuff, really cheap!!!
Time is money
Like a lot of different ways to save money, it is the elbow grease that oils the machine of frugality. If you want to make one phone call and get rid of a truckload, you'd better be prepared to pay for it! If you're like me and prefer to use your own time and elbow grease to save money, then you're in luck: you can save big.
Be the "dripping water"
In this, I am referring to a quote by Ovid, the ancient Roman poet: "Dripping water hollows out stone, not through force but through persistence." I have had huge success with my downsizing projects because I see them as longer-term goals.
For several months, my goal with my storage area has been to remove one item from it every time I am there. By keeping with that plan, I am able to reduce what I am storing without pressure. And the pile is reducing! So a great tip is to start now, before finances or other pressures demand that you empty your space on a clock.
In fact, I have begun to enjoy the satisfaction of getting rid of things. I look through the bins to see "what will go this time?" When I considered my shed project, the goal was pretty modest: to clear out enough stuff that hadn't been used in a year and extra construction materials so that I could fit my lawnmower in the larger shed. I've already exceeded that goal. I'm on a downsizing roll now!
Choose your battles when downsizing
When preparing for a big downsizing, I found it to be helpful to make a plan about what is worth your time and what isn't. Pick what you will sell and what you will give away. This is about valuing your time (which is worth money!).
In my case, when emptying a lot of items out of my shed that were dusty and dirty and in rough shape, I decided to put these out at the end of the laneway for people to take. In contrast, my leftover construction items and "like new" items and farm antiques are all up for sale on local online buy and sells. I like this balance, because it allowed me to help out some people who could make use of my old stuff, and I am still making a good amount of money from selling the other things.
Consider the cost of disposal
As a rural homesteader, it costs me money for every single item I throw out. A lot of locals burn some of their garbage, but I haven't gotten into the habit. I have to admit, when I opened up the sheds on my first day on my downsizing job I was thinking about how much it would cost to throw all of that stuff out!
One large bag of garbage is a couple of bucks here, and large items are around $15 EACH (e.g., a mattress, couch, bookcase (chipboard), etc.)! If you want to throw a truckload (and by this, I mean what would fill the bed of a 1/2 ton pickup truck) that costs just over $100. So, while I was being a nice person by putting my table full of old rusty tools and broken shed stuff, two microwave stands, and an old broom by the side of the road with a "FREE" sign on it, I was also saving myself some money. I could not believe what people took, and it saved me a lot of cash!
Don't be afraid to ask
There was basically only one thing that people wouldn't take in my big FREE sale: a large chipboard cupboard that was damaged beyond repair. Do you blame them? Nope, I guess not! However, I was able to get rid of it….for free!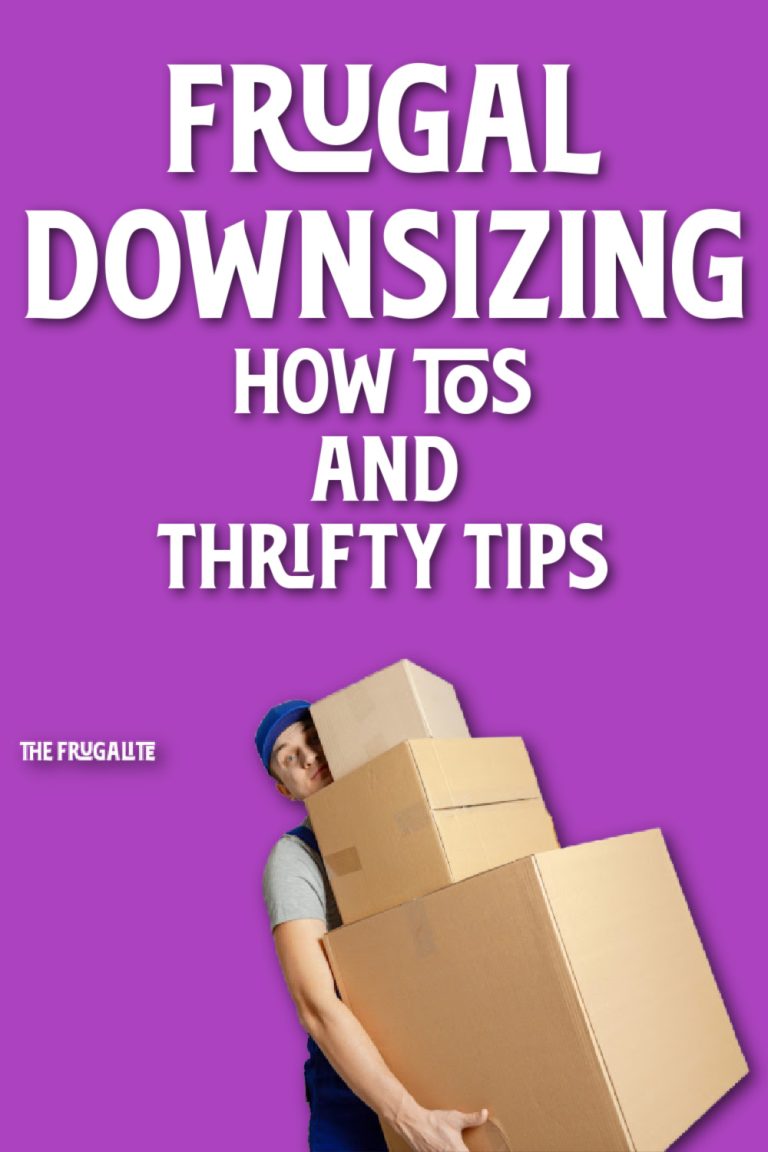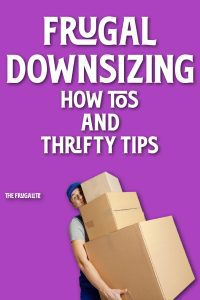 When a guy showed up to buy my extra cans of rust-proofing spray, I asked him if would he be willing to take my cupboard to the dump for the spray cans instead of buying them for $20. God bless him, he offered to take the cupboard to the dump….for free! I had purchased the tag to allow for dumping, but when he found out it was not for the dump in his township, he STILL took the cupboard and was willing to dispose of it.
When I asked him what he would like for his kindness, he told me that he collects hockey cards, so if I ever come across some let him know. What a great neighbor! I'm already asking around, trying to find him a good card or two. So, I found out that when you have stuff to get rid of, it never hurts to ask!
My savings: the bottom line
I called a local junk disposal service to get a quote this week. I wanted to know how much it would have cost to simply call them and tell them to take all my stuff in their big fancy truck. A conservative estimate for everything I've gotten rid of is around $300. So, I've saved $300 and I've already made $140 selling my old stuff, with more to come. That's a swing of almost $450!!! What doesn't sell in a month is going to be donated to the local Habitat for Humanity Restore for a whopping tax receipt. Yep, that's right! My elbow grease has paid off!
One woman's junk is…Going going GONE!
It is true that one woman's junk is another woman's treasure; that is unless you're downsizing. Could you see yourself trying any of the thrifty downsizing tips offered here? Do you have one you can share with us? Please tell us in the comments.
About Colette
Colette is passionate about sharing her knowledge of thrifty living and self-sufficiency. She has developed her skills in self-reliance living in the suburbs, the city, and more recently, on her own Half-Acre Homestead. Colette lived five years completely off-grid and without running water in an eight by 24 foot tiny home while designing and building her own 18 by 24-foot eco-cabin. Her website, Half Acre Homestead is attracting followers from around the world who want to become more self-sufficient. Colette invites you to stop by the Homestead and check out all of the great resources including the practical How To Guides, A Tiny Home Resource Center and her organic gardening stories on her blog. She shares her wholistic model (body/mind/spirit) for achieving self-sufficiency in her Free Course, "Growing Self-Sufficiency: The Whole Picture." Stop by the Homestead today to register free of charge!