(Psst: The FTC wants me to remind you that this website contains affiliate links. That means if you make a purchase from a link you click on, I might receive a small commission. This does not increase the price you'll pay for that item nor does it decrease the awesomeness of the item. ~ Daisy)
I've spent the last few years meandering around the world and I've stayed in places both large and small. I'm currently settled in the US for a little while and I've come to a rather obvious conclusion: small homes are a very thrifty option.
When I first got back to the United States, I lived in an actual "tiny home" of 320 square feet. It was awesome and everything was designed to make every niche of space count. Unfortunately, the owner of the home I was renting did not have the proper permits from the city and I had to relocate FAST. I had 15 days to find a new place.
I'm currently in an urban area near my daughter and rentals are costly. I chose to rent a 600 square foot studio apartment because I was conducting research for my other website on small-space prepping. But, I've realized that living in a small home can save you a lot of money.
I'm not suggesting you immediately pick up and relocate. But if you are moving, especially if it's due to financial reasons, consider downsizing.
Little living spaces usually cost less.
This is not always the case. If you choose an outrageously expensive neighborhood, you'll pay as much for your small home as you would a larger home in a middle-class neighborhood. My current apartment is considered a studio because the bedroom doesn't have windows or a closet. However, I have plenty of room for me, the dogs, and guests. It's about $400 a month less expensive than the other apartments in the complex, yet I still have access to all the nice amenities.
The same is true when you're buying. Depending again on the neighborhood, a two-bedroom, one-bathroom house is nearly always going to cost less than a place with 4 bedrooms, a family room, a fully finished basement, and three and a half baths.
It's cheaper to furnish a small home.
When I had to move in a hurry, I went from a fully-furnished tiny house into an empty apartment. I needed furniture FAST. I had sold all mine or given it to my daughters when I left for Europe three years ago. I still had some preps, some art, and my books in the storage unit, but I needed some basics.
I spent less than a thousand dollars furnishing my whole place. I got a sofa, two shelving units, a TV console with storage underneath, a coffee table, 2 bar stools, 2 random cabinets, a bed, 2 nightstands, 3 lamps, and a dresser. Everything was either found in an interesting-looking roadside trash pile on garbage day, Craigslist, or Facebook Marketplace. Normally, I'd hit some yard sales, but there aren't many going on this year, perhaps due to the pandemic. As well, I was in a hurry to get settled because taking more time to do so was taking time away from work.
Anyway, I managed to furnish it at a good price with used things and decorate with items I already owned that were in storage. My biggest splurge was printing off some of the travel photos I took to hang on the walls.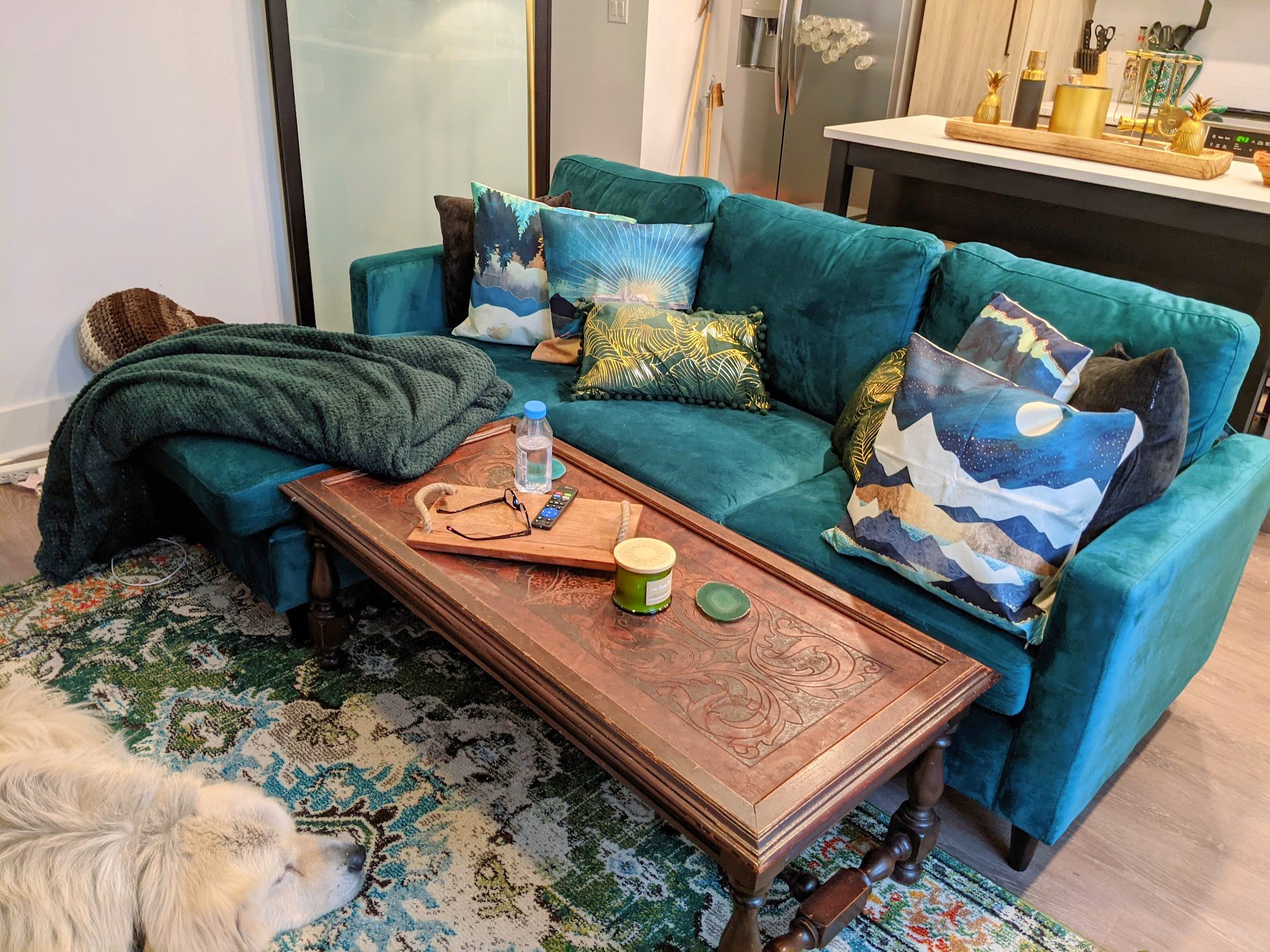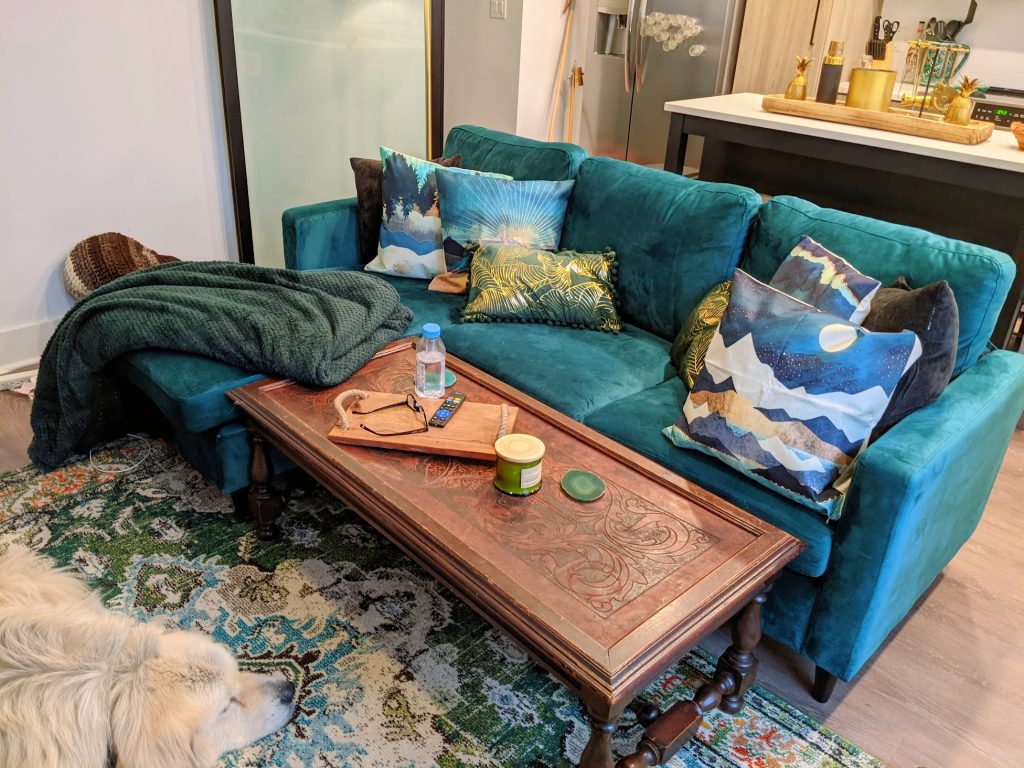 Less square footage means less area to heat and cool.
Obviously, this depends somewhat on the small home. If it's reasonably well-insulated, though, you'll find that your utility bills are lower if you're careful with your use of water and power.
In my apartment, I get the air conditioning fairly chilly at night because I sleep better in a cold room. As soon as I get up in the morning, I turn it up to 78-80.
I keep the blinds shut in the morning when the sun hits directly on my wall of windows. This keeps the apartment cool all day. Later, when the angle of the sun has changed, I open the blinds to let more light in. In the winter, I'll do the opposite because I'll want that solar gain in the morning to heat the apartment passively.
My utility bills are a fraction of what my local friends with larger homes pay.
Small homes are less time-consuming to keep clean.
Time is money, and in a small home, you'll spend less of it keeping things clean and tidy. I can vacuum my entire place in 15 minutes and as long as you put things away as you go, you tidying up doesn't take long either.
It's essential in a small home to be organized. You need to keep like items together so that you won't be frantically searching for what you need and stuck with a bunch of clutter.
You buy less for a small home.
I've always been one of those people who can't resist seasonal decor items…until now. There's no space in my little apartment for a lot of autumn or holiday decor. I don't have room to add a single piece of furniture to what's already here. I have two sets of sheets and 3 sets of towels. My closet has clothing on one side and shelves on the other side.
At this point, my rule here is the same as it was when I was traveling. One thing in means one thing out. Otherwise I'll end up in the uncomfortable position of climbing over stuff (or let's be honest – tripping over it) instead of walking freely through the space.
Gone are the days when I would just browse and buy a few new throw pillows for each season or little doo-dads that are purely decorative. If it's not useful, organizational, and I don't know where I'm going to put it, I don't buy it. Period.
What do you think about small homes?
Do you live in a small home or a big one? Do you find a small home to be more cost-effective? Do you have additional reasons why small homes are cheaper? Which do you prefer? Share your thoughts in the comments.