(Psst: The FTC wants me to remind you that this website contains affiliate links. That means if you make a purchase from a link you click on, I might receive a small commission. This does not increase the price you'll pay for that item nor does it decrease the awesomeness of the item. ~ Daisy)
Over the last couple of months I have discovered the amazing potential of lentils and how to use them. Not only can you add these protein-packed seeds to almost any dish, but, they are also dirt cheap, super filling, and have some amazing health benefits.
The ways you can cook lentils are literally endless. They are so versatile, and if cooked in just plain water, they don't have a ton of flavor which allows them to be seasoned and suited for anything. The red one will boil in about 20 minutes, the green and brown may take about an extra 10 minutes.
What are lentils?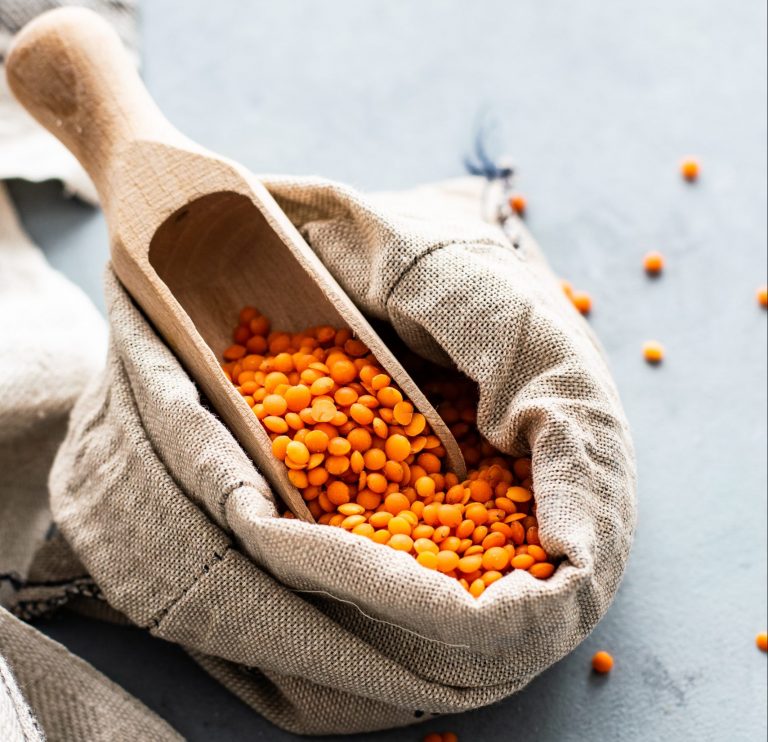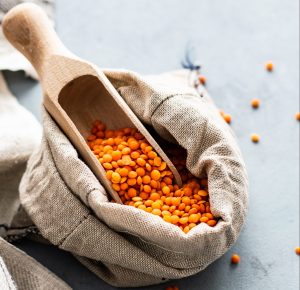 Lentils are considered edible seeds from the legume family. Many traditional dishes from Asia and North Africa contain lentils, but Canada has become one of the biggest producers of this tasty food.
There are 5 types of lentils, but the three most common you are likely to see are;
Brown Lentils
Green Lentils
Yellow or Red Lentils (these ones are my personal favorite and pictured to the left.)
Lentils are also a very affordable item. you can buy about 1 pound of dried lentils for $1.50.
So, what makes lentils so healthy?
Well, for every one cup (198g) of cooked lentils, you're going to get 230 calories, 18g of protein, and less than 1 gram of fat (whereas 200g of cooked chicken thighs has 409 calories, 52g of protein, and 21g of fat, not to mention the fact that it costs more than 10 times the amount.)
Lentils are so much more than just protein though. They also contain 15g of fiber and are very nutrient-packed with things like Vitamin B6, Thiamine, Folate, B5/Pantothenic acid, Iron, Magnesium, Potassium, and Zinc.
They are packed with antioxidants and anti-inflammatories, and some studies are showing that they may play a big role in balancing and lowering blood sugar levels. Not to mention, they can help improve heart health over time.
Now that you know the amazing potential of lentils, I will share some ways to use them.
Lentils and picky eaters
One of the reasons the red lentils are my favorite is because when you boil them, they lose a lot of their color. Now you might be thinking, why would that be a good thing? Well, my dear reader, it makes them easy to hide.
I know there are many picky kids out there, and it can be so difficult to feed them, make sure they get all their nutrients, while also sticking to a budget. My favorite trick, if you've got picky kids, but they love mashed potatoes, I add about a half cup of raw lentils for every 3-4 potatoes. It's so simple. I just throw them in the same pot to boil at the same time as the potatoes (don't worry about overcooking them, this just makes them mushier).
When you strain the water, make sure you use a finer strainer so you don't lose the lentils, and season and mash as normal. Trust me, no one will notice, and it will be so much more filling and nutrient-packed.
Lentil walnut burgers
Okay, so you can ask my sister, I am OBSESSED with lentil walnut burgers. They are absolutely phenomenal and I literally cannot stop talking about them. Did I mention that they're insanely easy to make?
What you need:
1 1/2 cups raw green lentils (I recommend green as they hold their form better)
1/4 cup chopped walnuts (not necessary, but they add dimension)
1 egg (or egg substitute)
1 piece of toast or 1/4 bread crumbs
2 tsp. garlic powder
salt and pepper to taste
Directions
Boil all your lentils on medium-high heat for about 25 min, or until soft. (make sure you use lots of water as they absorb a lot of water while cooking.) Strain out excess water.
Take approximately 2/3 of the lentils and put them in a food processor with seasonings, bread crumbs, and egg (or egg substitute), blend until fairly smooth.
Mix lentils from the blender and the rest of the lentils in a bowl, then form into burger shapes.
You can cook these numerous ways;

Cook at 425*F for 25 minutes, flipping halfway through.
Cook in a frying pan for about 12-15 minutes on medium heat.
How to spice up your lentil burger
Now the amazing thing, is this recipe is so insanely versatile. You can take the mix and instead of burgers, you could turn it into meatloaf, or meatballs. You can even replace the ground beef in your shepherd's pie or sloppy joes with some of these simple cooked lentils.
I have also given the steps for a very simple and versatile recipe, but it is so customizable. Like I said previously, lentils don't have much flavor on their own, so you can turn them into absolutely any meal or meat replacement just by changing your seasoning. Here are a few examples;
Tex-Mex: If you have a preferred taco seasoning you like, that makes it easy! Otherwise, here is mine: 1 tbsp. chili powder, 1 tsp. cumin, 1 tsp. garlic powder, 1 tsp. paprika, and a pinch of cayenne pepper if you like spicy. (This can also be replaced with Frank's hot sauce.)
Italian: you can do this one of 2 ways depending on what you have. I recommend either 1.5 tbsp. of Italian seasoning or 2 tsp. of both basil and oregano, and 1 tsp. of garlic powder
Savory: Again, this can be done in a couple of different ways. If you have it, 1 tbsp. of poultry seasoning will do the trick. If not, add 1 tsp. of each of the following; garlic powder, sage, thyme, rosemary. (if there is one out of that list that you don't like, no worries, just omit it! It'll be good as long as you have three of them.)
Do you have a favorite or go to seasoning? Try adding that! These little disks will pick up anything you give them. Get creative with it and have fun!
More amazing ways to use lentils
There are so many ways you can use lentils to either replace the typical protein in a meal or just add protein to something that doesn't typically have it. Here are a few ideas to get you started:
Use cooked lentils as your source of protein in the ultimate casserole formula. (I actually did this last night for dinner with roasted red pepper sauce I had laying around, rice, cabbage, and some frozen peppers I'd stocked up on when they were dirt cheap)
Taco filling – super easy, just boil your green lentils for 25 minutes or until soft, strain, then mix in some chili powder, cumin, paprika, garlic powder, and salt. Use it in any instance you would have used typical taco meat, so tacos, taco salad, taco omelets, enchiladas, the possibilities are endless.
With squash being in season, right now is the perfect time to try this lentil and butternut squash stew.
If curry is your thing, try this curried lentil dish which looks absolutely phenomenal.
Add some cooked lentils to any soup, chili, or salad.
How do you like your lentils?
Is there a certain way that you like to prepare your lentils that I haven't thought of? Share below, because I'm always on the lookout for new recipes. Are you going to try adding more lentils to your diet?